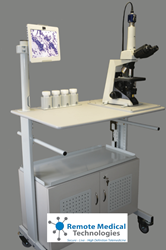 ...cleverly combined their technology with a purpose-built mobile cart for rapid on-site evaluations (ROSE).
Melville, New York (PRWEB) October 30, 2017
Remote Medical Technologies (RMT) will be exhibiting new advancements in their telecytology solution at the American Society of Cytopathology's (ASC) 2017 65th Annual Scientific Meeting being held in Phoenix, Arizona on November 11th and 12th. The most mobile telecytology technology on the market, RMT will be demonstrating the recently unveiled RMTConnect™ application for iOS. This app, which contains all the features and benefits of iMedHD2™, gives users the ability to quickly and securely participate in live, dynamic streaming of HD video and audio sessions from their iPhone™ or iPad™. Moderators allow guest participants to join a session, jointly annotate images, and record snapshots and movies for instant image sharing and decision-making among collaborating experts.
The highly acclaimed iMedHD2™ Mobile-Cart Solution will also be exhibited at the meeting. This solution also contains the features and benefits of their high-performance telecytology solution. RMT has cleverly combined their technology with a purpose-built mobile cart for rapid on-site evaluations (ROSE).
RMT Founder and CEO, Don Marchon, discusses how "...patients and doctors alike love having a proven solution that provides quick and seamless results, especially when time matters most." Blue-chip medical facilities utilizing the iMedHD2™ Mobile-Cart Solution are seeing an enhanced workflow with a significant return on their investments. Be it across the street or around the world- RMT's iMedHD2™ allows for LIVE collaboration among medical personnel. iMedHD2™purpose-built technology improves patient outcomes and increases medical facility revenue while significantly reducing costs.
Visit RMT at booth #300 at the Arizona Grand Resort and Spa for the 65th Annual Scientific Meeting to receive a hands-on demonstration and learn more about how your medical facility could benefit from this state-of-the-art technology.
About Remote Medical Technologies, LLC.
Remote Medical Technologies is the creator of an innovative patented technology for delivery of Internet-based premium telemedicine services. The company is a Limited Liability Corporation headquartered in New York. RMT provides a best-in-class web-based video, voice, collaboration and administration platform. With merely the use of a browser the solution is easy to deploy, operate and manage. This customizable and extendable multimedia services platform is a modular, non-fragmented approach to extending a healthcare organization's communications infrastructure. Be it across the street or around the globe, RMT drives telemedicine concepts and provides solutions that save lives.