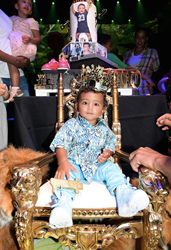 MIAMI (PRWEB) October 26, 2017
Global media company Haute Media Group launched its newest platform, Tot Living by Haute Living, on Saturday, October 21st with social media sensation DJ Khaled's son, Asahd Khaled's 1st Birthday takeover at LIV Miami. Asahd's high-profile fete is the first of many toddler events that Tot Living will host in the luxury arena for children and parents. Featured partners included Childsplay, which specializes in designer clothing for children and babies, and Goodbaby Holdings Inc., which brought luxury stroller/car seat/baby carrier brand Cybex and toy automobile brand Rollyplay. The premiere of Tot Living was a huge success, garnering more than 300 million third-party press impressions.
The site can be found at https://totliving.com and will feature family-friendly interviews with top celebrities, billionaires, CEOs and more on parenthood, children's trends, shopping guides and pro tips. The platform's editorial will be helmed by industry vet and working mom Jacquelynn Powers Maurice.
Created by Haute Living, the country's leading luxury digital and publishing platform, Tot Living is a natural extension of the brand, focusing on the next generation of tastemakers and trendsetters. Tot Living caters to stylish children and their parents by presenting carefully curated content spanning gear, fashion, clothes, nursery décor accessories, toys and gifts—with an insider's approach. Written by moms and dads, our first-person perspective provides unparalleled insight into the journey of parenting, while providing exclusive access to the hottest brands and trends, which will be available for purchase via our e-commerce platform.
For more information on Tot Living and to keep up with the most current news and stories, be sure to follow us on all of our social channels:
Facebook: /Tot-Living
Instagram: @totliving
https://totliving.com
Contact information:
contactus(at)hauteliving(dot)com