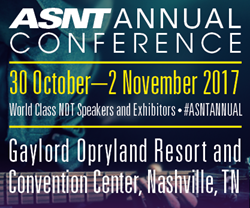 ASNT is regarded worldwide as the leading society for NDT. The ASNT Annual Conference is the event where, each year, international professionals convene to move NDT forward and work together to create a safer world.
COLUMBUS, Ohio (PRWEB) October 30, 2017
The 2017 ASNT (The American Society for Nondestructive Testing) Annual Conference on 30 October – 2 November, 2017 at the Gaylord Opryland Hotel and Convention Center in Nashville, gathers international attendees to collaborate, share knowledge, and see the latest technologies in this largest annual tradeshow for nondestructive testing (NDT) industry professional, equipment and technology suppliers, engineers and researchers. ASNT will also host the ASNT Day of STEM which brings Nashville high school students to the conference for hands-on activities, lunch, and industry insight. The Music City backdrop is the perfect setting for what is poised to be one of the most well-attended ASNT Annual Conferences to date.
NDT was a national headline as one of the necessary inspections to ensure the safety of amusement park rides as operators, engineers, and state officials investigated the cause of a state fair ride malfunction in summer 2017. The public awareness of this critical function spurred worldwide interest in the industry.
NDT professionals from over 40 countries will descend upon Nashville for four days of entertaining speakers including Nashville recording artist, author and entrepreneur Robin Crow. Over 120 presentations will be given, hours of networking activities planned, and an awards banquet honoring the accomplishments of some of the NDT industry's great accomplishments will fill the week.
Several Nashville area high school classes and educators will learn about the technologies and applications of NDT through the wisdom of tenured professionals and hands-on activities at the ASNT Day of STEM on Tuesday, 31 October at the Annual Conference. Sarah Allen Ray, Hillsboro High School educator said, "Many [students] are interested in a science career but haven't narrowed down what exactly they want to do. This field trip gives them an idea of where the content that they learn in the classroom connects with nondestructive testing. I am all for experiential learning, simulations, and increased exposure to a variety of science fields."
"ASNT is the first NDT society in the world to include STEM programming in its conferences and make this outreach a strategic priority. Workforce opportunities for NDT continue to thrive. The accessibility, low barriers to entry, and ability to make a very good income and travel the world should make NDT a serious career consideration. The school-age generation wants to know they matter and make an impact. NDT allows students to impact lives in their community and around the world," remarked ASNT Executive Director Arny Bereson.
About ASNT
The American Society for Nondestructive Testing, based in Columbus, Ohio, is an international technical society with over 20,000 members and certification holders that provides a forum for exchange of NDT technical information; NDT educational materials and programs; and standards and services for the qualification and certification of NDT personnel. 2016 marked ASNT's 75th Anniversary of NDT industry servicing excellence. http://www.asnt.org