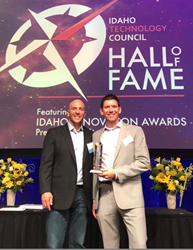 "...the real innovators are the 250 people making it happen at TSheets each and every day. I was simply accepting the award on their behalf." -- Matt Rissell
Boise, Idaho (PRWEB) October 27, 2017
Matt Rissell, CEO and co-founder of TSheets, was named Innovator of the Year during the annual Idaho Innovation Awards ceremony, presented by Stoel Rives LLP and sponsored by the Idaho Technology Council.
The Idaho Innovation Awards, along with the Idaho Technology Council, serve to "highlight the amazing work that has been a part of Idaho's past and the great innovations that are defining its future." The award is intended to recognize and showcase the best and brightest technology and leadership talent in the state of Idaho.
"With customers in over 100 countries, it's clear that TSheets is making a global impact," said Jay Larsen, CEO of the Idaho Technology Council. "But that's nothing compared to the impact they're having on the local economy. Matt Rissell took TSheets from a self-funded startup to a global company that attracts incredibly talented individuals from all across the country to Idaho's burgeoning tech community."
TSheets recently opened a new building in Eagle to accommodate over 250 employees. Before the ribbon-cutting ceremony, Governor CL "Butch" Otter said, "TSheets is an admirable representation of a company that is harnessing Idaho's talent, resources, and entrepreneurial spirit to create meaningful career paths. This is exactly the kind of innovation that should be credited for helping to create economic opportunity in our great state."
"One of our core values at TSheets is 'innovate and win,'" said J.D. Mullin, SVP of Product and Engineering at TSheets. "Through his innovative approach to leadership, and his passion for fostering an environment that maintains our ability to think outside the box, Matt has built some of the highest performing and most effective teams and individuals."
"When I walked on stage to accept the award, it was evident that the real innovators are the 250 people making it happen at TSheets each and every day," Rissell commented. "I was simply accepting the award on their behalf."
More than 800 businesses and technology professionals attended the Innovation Awards ceremony during which Barbara Morgan, former NASA astronaut and educator, and Burt Rutan, aerospace designer and engineer, were inducted into the Idaho Technology Council Hall of Fame.
About TSheets
TSheets is making paper timesheets obsolete. With go-anywhere, cloud-based timesheets that integrate with top accounting and payroll platforms, TSheets gives employees, employers, and accounting professionals in over 100 countries mobile, flexible tools to track what happens at the office and in the field.
About the Idaho Innovation Awards
The annual Idaho Innovation Awards is Idaho's first and only innovation awards program. The program recognizes innovations, innovative professionals, and companies throughout the state. Stoel Rives LLP, a full-service US business law firm, has organized and hosted the program since 2006 and was pleased to organize this year's program with Trailhead and the Idaho Technology Council.
PR Contact: Kelsie Medel, TSheets, 208-810-7375, kelsie(at)tsheets(dot)com