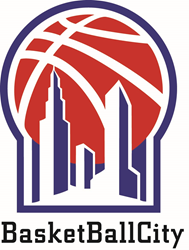 The total value of Basketball City's contributions is over $300,000 per year and over $900,000 over the past three years.
NEW YORK (PRWEB) October 31, 2017
Basketball City (at Pier 36) celebrated its 20th anniversary this September with another major milestone - exceeding in 2016 the highest annual dollar value of any year of its own charitable contributions and discounts to non-profit organizations.
Basketball City has:

donated an average of 450 court hours (annually) over the past three years, to local schools and youth organizations for practices, games, tournaments and physical education classes;
contributed an average of 325 scholarships (annually) to local residents for our basketball summer camps and youth programs over the past three years;
donated money to Henry Street Settlement, Positive Coaching Alliance, NYPD Night Out Against Violence, NYPD Annual Toy Drive, etc.; and
replaced five (5) backboards and baskets for the Shuang Wen School (PS 184), located across the street from Basketball City.
The total value of Basketball City's contribution of the above is over $300,000 per year and over $900,000 over the past 3 years.
Further, Basketball City has reduced its fees and provided steep discounts to a variety of non-profit organizations to host charitable events / fundraisers at Pier 36. In 2016 alone, these discounts have totaled over $400,000, helping these organizations raise millions of dollars for many worthy causes (over $30 million since our inception).
Some of these non-profit organizations include:

9/11 Day of Service
Alan T. Brown Foundation to Cure Paralysis
American Dairy Association / NFL Play 60
Bike New York
Boomer Esiason Foundation for Cystic Fibrosis
City Harvest
Fiver Children's Foundation
Friends of the Highline
Glenn Markman Foundation
Health & Humanitarian Aid Foundation
Henry Kaufman Campgrounds
League Apps Fund Play
Lower East Side Chabad
NBA Cares
New Arts Dealers Alliance
NYC Department of Investigations
NYC Department of Transportation
NYPD
NYPD 7th Precinct Community Council
NYU Islamic Center
Planned Parenthood
Point of Hope / Deron Williams Foundation
Promax BDA
St. Mary's Children's Hospital
Unites States Marine Corps
Victor Cruz Foundation
Women's International Zionist Organization (WIZO)
Local public schools and youth organizations who have received court time donations include:

Bard HS
Beacon HS
DEA "Drill & Play"
Essex Street Academy
HS for Health Professionals
HS for Leadership & Public Service
HS of Economics & Finance
Institute for Collaborative Education
JVL Wildcat Academy
Life Sciences HS
Lower Manhattan Arts Academy
Manhattan Village Academy
Police Athletic League (PAL)
School of the Future
Seward Park HS
University Neighborhood HS
Urban Assembly Academy
Urban Dove
ABOUT BASKETBALL CITY: New York's premier "state-of-the-art facility" contains seven air-conditioned basketball courts complete with glass backboards, electronic scoreboards and first class locker rooms. In addition to league play, the courts are available for private rentals and special events.
The facility also includes a VIP Mezzanine (which will be serving food and beverages), a 40,000+ sq. ft. parking lot, and a 15,000 sq. ft. deck on the East River overlooking the Manhattan and Brooklyn Bridges, the Statue of Liberty and downtown Brooklyn and Manhattan.