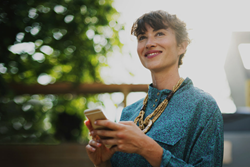 When our clients exit Second Chance, they re-enter a less structured environment, and we believe the Hayver smartphone platform is perfect to keep accountability in their lives, with the people closest to them.
ATLANTA (PRWEB) October 31, 2017
Second Chance Recovery Residences and Hayver Corporation announced today their partnership in using the newest, most technologically advanced tool to help people recovering from opioid, drug and alcohol addiction, and remain substance-free.
Hayver Corporation, a digital healthcare platform, is dedicated to combating the national opioid, drug and alcohol epidemic through the use of its revolutionary smartphone application and behavior modification platform. Second Chance is a sober-living residential community designed to provide guidance and support for people in early substance abuse recovery.
"Accountability for one's own actions is critical, which is why we began working with Hayver for our alumni program," states Debbie Cohen, Executive Director of Second Chance. "When our clients exit Second Chance, they re-enter a less structured environment, and we believe the Hayver smartphone platform is perfect to keep accountability in their lives, with the people closest to them."
Located in Atlanta, Georgia, the sober living facility provides a safe, structured atmosphere that facilitates transitioning into everyday life. Second Chance encourages residents to embrace ownership of their behavioral responses, establish healthful routines, including social connection through weekly community meetings, and participate in physical fitness and nutrition programs. A health club membership is offered at Youfit Health Clubs for no additional fee.
Co-Founder and Chief Medical Officer of Hayver, John Copenhaver, M.D., vouched for Hayver's ability to augment and support the recovery process initiated at Second Chance. "Patients are usually limited to only around 30 to 45 days at treatment centers, due to insurance and other factors," says Dr. Copenhaver. "This is nowhere near the 18 months of complete abstinence that is required for an individual to fully recover from damage done to the brain during opioid, drug or alcohol addiction."
Dr. Copenhaver adds, "Second Chance gives the individual continued support, accountability and time for the brain to continue its healing process. Based on a scientifically proven methodology, through the random possibility of a drug and alcohol screen, the Hayver smartphone and behavior change platform gives the individual structure to maintain their recovery. Partnering with quality recovery residences like Second Chance, and utilizing today's technology, as well as traditional modalities, form a complete recovery infrastructure."
Second Chance features two programs—one is dedicated to helping men and women age 21 and above, and the other program is designed for the older adult age 50 or more. The Older Adults Program addresses specific concerns related to recovery care and aging. Both support systems offer individual and group counseling facilitated by a credentialed substance abuse counselor. The programs are based on the Alcoholics Anonymous 12-Step model.
Second Chance Recovery Residences provide fully furnished apartments with internet access, cable television, and washer/dryer units in each suite. Bedrooms and bathrooms are shared with one additional resident.The facility is located off GA-400 and the Northridge Road exit and is accessible to public transportation, including MARTA. Second Chance is also located near several 12-Step community meeting locations.
HAYVER provides a revolutionary, first-of-its-kind verification technology to monitor those suffering from drug addiction or alcoholism, to ensure they are drug-free and alcohol-free. Hayver is based on new research that demonstrates how to heal an addict's brain, through well-tested proven methods that can ensure 78 percent of people are clean even after five years. With daily check-ins, a unique Circle of Support™ (an accountability group), and random urine screens, Hayver's advanced analytics provides proven relapse prevention to ensure those addicted to drugs or alcohol get clean, stay clean and improve their long-term recovery success.
More information about Second Chance can be found at http:// http://secondchanceatl.org