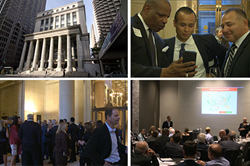 "The opportunity to participate ... is now open to eligible investors through our digital investment platform, available at www.uscgs.com." – Jeffrey Sweeney, CEO
SAN FRANCISCO (PRWEB) October 30, 2017
On October 17th, US Capital Partners Inc. held a well-attended, exclusive investor reception, presentation, and networking event on the Internet of Things (IoT) at the historic Bently Reserve on 400 Sansome Street, San Francisco, CA. Entitled "Investing in Tech Companies that Leverage the Internet of Things," the event showcased two of the firm's exclusive IoT investment opportunities.
US Capital Partners is a full-service private financial group headquartered in San Francisco. Through its affiliate broker dealer, US Capital Global Securities, the group provides private placement services and has wide distribution for debt and equity private placements. We believe the group's technological innovations in finance reduce "transaction friction" and make smaller deals more efficient and practical than ever before.
The rapidly expanding IoT is a new interconnection of technology heralded as the next industrial revolution. More than half of major new business processes and systems are expected to incorporate some element of the IoT by 2020, according to Gartner.
At the event, US Capital Global Securities showcased two of its exclusive IoT portfolio companies, Device Authority Limited and Discovery Sound Technology, LLC. Device Authority's KeyScaler™ platform provides trust for IoT devices and the IoT ecosystem, to address the challenges of securing the IoT. In our opinion, Discovery Sound Technology provides an innovative cloud-based service platform that registers and evaluates heating, ventilation, and air conditioning equipment data for predictive maintenance, real-time diagnostics, and advanced analytics.
"This event was an excellent opportunity for investors to gain a better understanding of the IoT and to meet two of our exciting IoT businesses," said Jeffrey Sweeney, Chairman and CEO at US Capital Partners. "The opportunity to participate in Device Authority's $10 million preferred equity raise and Discovery Sound Technology's $5 million preferred equity raise is now open to eligible investors through our digital investment platform, available at http://www.uscgs.com."
Both Device Authority Limited and Discovery Sound Technology are early stage, selling into their respective markets, and seeking growth capital.
About US Capital Partners
Since 1998, US Capital Partners has been committed to providing small and lower middle market businesses and investors with sophisticated debt, equity, and investment opportunities usually available only to larger middle market companies and institutional investors. The firm manages direct investment funds and provides wealth management and M&A services. Operating with its registered investment bank affiliate, US Capital Global Securities, LLC, the firm acts as a licensed placement agent, and collaborates closely with its peers in professional banking and investment advisory.
To learn more, email Jeffrey Sweeney, Chairman and CEO, at jsweeney(at)uscapitalpartners.net or call (415) 889-1010.