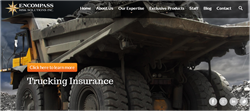 Webinars on topics like recruitment and retention help trucking companies improve operational efficiency and their bottom line.
WARMINSTER, Pa. (PRWEB) December 06, 2017
Join Encompass Risk Solutions and industry expert Ken Lacey as he discusses the growing challenge of recruiting and retaining talent in the transportation industry. How can companies improve their comparative recruitment advantage? How can retention rates be measured, analyzed and improved? Several mission critical issues will be covered in this complimentary 30 minute webinar, including:

Capacity vs. Available Customer Freight
Evaluating Online Presence and Social Media Usage
In-House vs. Outsourced Recruiting
Incentivization and Onboarding
Date & Time: Thu, Dec 14, 2017 1:00 PM - 1:30 PM EST
Slots are limited, early registration is recommended.
About Encompass Risk Solutions
Encompass Risk Solutions, a managing specialist of AssuredPartners Transportation, has over 100 years combined experience in creating risk management and insurance solutions for the transportation industry. Encompass serves a broad carrier and logistics customer base, providing service to small fleets to complex operations with thousands of trucks. ERS' services benefit all industry professionals, including company and owner operator fleets, truckload and LTL capacities, drayage, to car hauling and heavy haul. ERS also understands that the key to driving down fleet's cost of risk begins and ends with risk management including safety programs that make sense, proactive and reactive loss control and corporate "buy-in" from the top down. Contact Encompass Risk Solutions http://www.encompassrisksolutions.com for additional information.