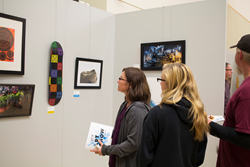 Salt Lake City, UT (PRWEB) October 30, 2017
Salt Lake Community College is hosting its annual President's Art Show Nov. 2-14. The opening reception, which is free and open to the public, is Nov. 1, 6-9 p.m. at the Center for Arts & Media on SLCC's South City Campus, 1575 South State Street, Salt Lake City.
This year's juried exhibition, sponsored by the SLCC Art Committee, drew 233 submissions, which resulted in 113 works on display for the 2017 show. The event is a celebration of local artists and the power of art to bring together people from across the community. Artists both amateur and professional, representing a variety of media, are eligible to win awards in five categories worth a total of $4,500.
Public viewing of artwork is Monday through Thursday, 10 a.m. – 7 p.m. and Fridays, 10 a.m. – 3 p.m. Many of the works are for sale, and the pieces eligible to be purchased and their respective prices are listed in the exhibition's program, which are available at the show. You can learn more at slcc.edu/artshow.
SLCC's Center for Arts & Media is a state-of-the-industry facility at the South City Campus. World-class features include a 2,000 square-foot television studio and control room, a 3,000 square-foot film stage, a 36-seat screening room, three MIDI (Musical Instrument Digital Interface) classrooms, 22 editing bays, an animation lab, radio station and a recording studio with 64 channels that allow for collaboration in editing locations throughout the building. The new center, which is physically connected to Innovations High School, serves an estimated 9,000 students and brings together 17 programs under one roof for SLCC's School of Arts, Communication and Media.