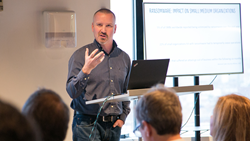 BOSTON (PRWEB) October 27, 2017
Cybereason, creators of the leading cybersecurity data analytics platform including endpoint detection and response, next-generation antivirus, and active monitoring services, on Wednesday hosted the first Secure Massachusetts (SecureMA) Intelligence Briefing at its headquarters in the John Hancock Building with 50 small business owners, non-profits and local police departments.
The focus of the Intelligence Briefing was the global ransomware epidemic. Cybereason's Chief Information Security Officer Israel Barak discussed why ransomware attacks will continue to increase and what organizations can do to reduce risk and improve their security hygiene. In 2017, many high profile ransomware attacks such as WannaCry, NotPetya, and Bad Rabbit have impacted organizations on a global level. In 2017, companies have paid billions of dollars in ransoms to criminals.
Ed Davis, former Boston Police Commissioner and current Cybereason Advisory Board Member, is the Honorary Chair of SecureMA. Davis emphasized that when small businesses are victimized by cyber criminals, local law enforcement agencies generally don't have the capacity to help, making it imperative for private businesses and other organizations to be available as resources.
SecureMA will convene quarterly to empower IT professionals with free information, resources, and tools to defend against cyber threats.
"Cyber attacks are among the most challenging and concerning security threats that we face today. There is no program that currently exists like SecureMA where small businesses, non-profits and local law enforcement agencies can collaborate and share information on cyber threats," said Davis.
"We were very excited to bring organizations together today in an informal and open setting to discuss ransomware and its global impact and to raise awareness of cyber threats and collaborate to share information," said Barak. "We know first-hand the pain that ransomware attacks create for organizations because we are tracking attacks vehemently."
There are many ways small businesses, non-profits and local law enforcement agencies can reduce ransomware risks. These tips include:
Tips to Prevent Ransomware
Maintain up to date backups of important files and regularly verify that the backups can be restored
Avoid common malware delivery tactics:
Don't download software from dubious sources
Don't open email attachments from unknown / unexpected senders
Deploy an anti-ransomware tool such as RansomFree
Tips For Dealing With an Attack
Immediately isolate the affected machine(s). The presence of ransomware indicates an attacker, and isolated affected machines minimizes the encryption of additional file/shared folder on other machines, and since the presence of a ransomware indicates the attacker
Consider paying the ransom, in order to recover. And then focus on improving defenses to avoid future ransomware attacks
Notify all users to be cautious
Organizations can join the SecureMA coalition by completing a registration form at: https://hi.cybereason.com/secure-massachusetts-join
About Cybereason
Cybereason, creators of the leading cybersecurity data analytics platform, gives the advantage back to the defender through a completely new approach to cybersecurity. Cybereason offers endpoint detection and response (EDR), next-generation antivirus (NGAV), and active monitoring services, all powered by its proprietary data analytics platform. The Cybereason suite of products provides unmatched visibility, increases analyst efficiency and effectiveness, and reduces security risk. Cybereason is privately held, having raised $189 million from top-tier VCs, and is headquartered in Boston, with offices in London, Tel Aviv and Tokyo.
Learn more: https://www.cybereason.com/
Follow us: Blog | Twitter| Facebook
Media Contact:
Bill Keeler
Director, Public Relations
Cybereason
bill.keeler(at)cybereason.com
(929) 259-3261