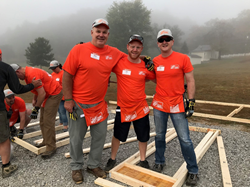 Tampa, Fla. (PRWEB) October 28, 2017
National Make a Difference Day is October 28. It's one of the largest days for engaging in community service in the nation. MaintenX International believes in supporting and being an active member of the community all year long and recently helped rebuild homes and renovate public spaces for families in West Virginia with the Home Depot Bulding Services and Store Operations Foundation. The event raised $3.8 million, providing support for those impacted by national disasters.
"It's an incredibly rewarding experience to serve your community," said Bill Schaphorst, MaintenX's VP of Business Development. "At MaintenX, we are constantly looking for ways to give back to the community with our time and talents. It's what we believe in."
MaintenX employees joined nearly 350 other volunteers to help frame new homes in New Hope Village, which aims to rehome victims of the devastating flood that occurred in Greenbriar, West Virginia in 2016. They also helped revitalize Mylan Park, providing a beautiful outdoor area for the community.
For more information about MaintenX, visit http://www.maintenx.com.
ABOUT MAINTENX INTERNATIONAL:
MaintenX International is a fully licensed, facilities repair company. As one of the largest national self-performing facility maintenance and repair companies in the U.S., MaintenX has created a wide network of knowledgeable and professional technicians throughout the country. With their team of well-trained technicians, MaintenX self-performs and manages facility maintenance for their clients. In the event there is not a MaintenX technician in an area, the company has established a network of preferred vendor partners throughout the country for continued superior service for their clients. For over 30 years, MaintenX has been expertly serving multi-location retail stores, restaurant chains and Fortune 500 companies nationwide.