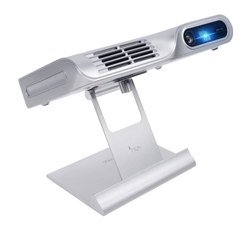 Butterfly Technology pioneers new projection technology on a global scale
SAN MARCOS, Calif. (PRWEB) October 27, 2017
First introduced to projection technology in the 1950's, corporate America has since changed dramatically. Giving way to new advancements over the years, there are now a multitude of options including opaque projectors, computer projectors, home theater projectors, and even pocket projectors.
Featuring breakthrough technology in a sleek, modern design, PIQS Projector is the world's first portable big screen with a patented virtual touch remote. Bringing their innovative technology to America, PIQS allows users to interact with the screen from 10-20 feet away, removing common issues where a body blocks the view or casts a shadow on the screen.
Revolutionizing the industry to bring the tech world faster, more precise interactions, the PIQS remote supports more than 10m away from the screen, making a substantial impact on any product in the market. With other innovative advancements such as AutoFocus which allows users to get a clear picture in seconds, and Auto Keystone that automatically detects and adjusts any keystone effect on the projector, Butterfly Technology has always been at the forefront of technology innovation in the projector industry.
With a three-hour battery life, ability to connect to WiFi and Bluetooth, and inventive apps, PIQS paves the way for the ultimate portable projector in the industry. With these capabilities, PIQS Virtual Touch Projector gives the user wireless content streaming for movies, TV, or gaming and the ability to outlast their audience.
Enabling users to play projectors as if they were operating a touch panel, the first-generation PIQS brand projectors can be utilized for everything from business presentation to enriching a child's imagination.
PIQS Virtual Touch Projector comes to you courtesy Butterfly Technology (Shenzhen) Limited, a respected world leader in innovative technology. Butterfly is one of the earliest companies in the world to develop a micro-optical engine and has been a technology leader in projection display industry since its inception.