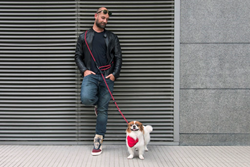 SAN MARCOS, Calif. (PRWEB) October 27, 2017
The health of your dog depends on how active they are. Young dogs need around an hour of daily exercise, but some are bred for sports or herding activities and need much more activity. Dogs aren't born understanding how to walk on a leash, so committed pet owners have to teach them how to follow their lead.
The U.S. Department of Labor discovered that only 16% of Americans exercised at all on an average day. In a survey of dog owners conducted at the University of Western Australia and published in Health Promotion Journal of Australia, it revealed that dogs are a high motivator for walking and staying active. Not only are they great walking companions, they provide social support when exercising and help to maintain a healthy lifestyle.
Creating a new, innovative way to walk dogs,High5Dogs has utilized the booming pet owner industry. With functional, smart leashes that cater to the leisure and luxury of city life, High5Dogs designs pet products that help to multitask while keeping up with a pet owner​'s​ lifestyle.
Offering two new lines – the Metropolitan and Leisure collections – High5Dogs uses breakthrough tech to safely clip up any dog to a table or anything else without having to take them off-leash to do it.
With new, convenient tethering, High5Dogs' CLIC leash allows pet owners to use one leash in four, innovative ways. With unique Rope Walker harnesses that are easy to adjust and have quick release buckles, H5D Leisure Collection is the solution to staying active and healthy for the city person and dog
Inspired by his inability to find the perfect gear for himself and his dog Gizmo, Dutch product designer Daniel Fang created High5Dogs. With a rich past designing with and for some of the world's leading furniture and lifestyle companies, this is his first delve into the pet industry. Handcrafting innovative products that cater to contemporary needs in a timeless manner, Fang believes style is a must. Developing their own hardware using bespoke rope, H5D assembles their leashes with only high-end materials and craftsmanship.