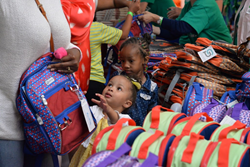 (PRWEB) October 27, 2017
Floodwaters from tropical storm Harvey devastated the nation's fourth most-populous city and well over 100 districts across southeastern Texas. Hurricane Harvey kept schools closed, affecting hundreds of thousands of students.
According to The Atlantic, the inconsistency of​ a ​​​school closure can have a lasting effect. Researchers discovered that some children became more aggressive after experiencing Hurricane Katrina, which grossly damaged 110 of the city's 126 public schools and resulted in the reconstruction of the New Orlean's education system. In order to succeed, children need stability in school.
Dedicated to giving back together, Sydney Paige has partnered with Orinda Union Schools, Miramonte High School, The City of Orinda and a local nonprofit Mindful Littles to show #OrindaCares. Through Helping Hands for Houston, they are focused on supporting the student victims of Hurricane Harvey.
"Children will be dealing with the aftermath of a natural disaster, working to overcome fears of recurrence, loss, and other issues causing anxiety...many of our students have lost everything, including basic school supplies. Providing them with quality backpacks and the tools to do their work in school will help them feel loved, cared for, and prepared."
Designed from eco-friendly materials of 100% cotton canvas, natural leather, nickel-free hardware, and recycled polyester where possible, Sydney Paige is committed to lending a hand. Through their Buy One/Give One Program, Sydney Paige donates a matching bag filled with school supplies to a child in need every time a purchase is made.
On a mission to raise funds to provide 1,000 backpacks filled with essential school supplies, #OrindaCares comes together with open hearts, hoping to make a real impact on the lives of so many affected by Hurricane Harvey.
Focused on breaking the cycle of poverty, Sydney Paige donates the same high-quality backpack as purchased, filling each donated backpack with a full set of age-appropriate school supplies, food, clothing, or hygiene kits and letting customers choose which non-profit company receives their matching bag and supplies.