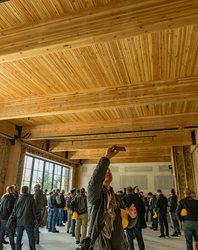 While the International Mass Timber Conference is certainly a celebration of mass timber and new tall wood building design, it serves primarily as a laboratory for ideas where international experts can connect, share, and build the momentum for greener, healthier buildings and cities.
PORTLAND, Ore. (PRWEB) October 30, 2017
Returning for a third year in Portland, Oregon, the International Mass Timber Conference retains its focus on the biggest disruptor in mid- to high-rise building construction in almost a century—cross-laminated timber (CLT) and other mass timber products. The conference is produced by Forest Business Network in cooperation with the wood design experts at WoodWorks – Wood Products Council and welcomes international attendees to the Oregon Convention Center, March 20-22, 2018.
Mass timber is a category of engineered wood framing often using lumber glued together to make massive and extremely strong panels of solid wood for use as floors and walls. These innovative products are competing with concrete, masonry, and steel in mid- and high-rise buildings and offer fast build times, sustainability, less waste, and superior carbon efficiency. Mass timber includes products such as CLT, nail-laminated timber, glulam beams and panels, mass plywood panels, dowel-laminated timber, and laminated veneer lumber.
On March 21 and 22, attendees benefit from a packed educational agenda that includes 70+ global speakers in general assembly presentations and in four concurrent educational tracks each day. The tracks explore the supply chain for mass timber under the following topic areas: Track 1: Barriers, Solutions, and Opportunities; Track 2: Developers and Builders; Track 3: Architecture and Engineering; and Track 4: Manufacturing.
A number of high-profile keynote presentations include speakers such as Michael Marks, chairman and founder of Katerra, who is leading his tech company in the charge to modernize the business model of the traditional construction industry, and Bill Browning, a founding partner of Terrapin Bright Green and one of the foremost thinkers and strategists working in green building and real estate today.
The optional building and manufacturing tours on Tuesday, March 20 will visit innovative wood construction and manufacturing in northwest Oregon. Oregon currently leads the nation in mass timber construction, therefore attendees can expect to get up-close looks at some cutting-edge buildings and even an exclusive peak at the world's first mass plywood panel manufacturing plant.
Two receptions—a Welcome Reception on Tuesday, March 20 sponsored by Katerra and a Happy Hour Reception on Wednesday, March 21 sponsored by Hexion—offer complimentary hors d'oeuvres, no-host bars, and plenty of networking time with attendees from around the world.
"Mass timber disrupts the construction industry in that it allows us to rethink how we build buildings. Tall, safe, strong buildings made from wood are now possible, providing a sustainable and environmentally-friendly alternative to concrete and steel," said Craig Rawlings, president & CEO of Forest Business Network, the owner and co-producer of the International Mass Timber Conference. "While the conference is certainly a celebration of mass timber and new tall wood building design, it serves primarily as a laboratory for ideas where international experts can connect, share, and build the momentum for greener, healthier buildings and cities."
The exhibition hall serves as the focal gathering space for attendees at all meals, networking breaks, and receptions, and hosts 62 exhibitors representing product and equipment manufacturers, suppliers, architectural services, software, universities, and more. Exhibit spaces sold out in record time, but a waitlist is available for those still interested.
"WoodWorks has a unique role in that we provide free technical support related to the design of wood buildings, which also gives us a unique perspective on the use of mass timber," said Bill Parsons, PE, vice president of operations for WoodWorks, a co-producer of the conference. "We're supporting significantly more mass timber projects, but what's especially interesting is what's driving the tremendous spike in interest. For some people, it's construction speed and what that means to cost. For others it's having a sustainable, low-carbon alternative to concrete or steel. Others are looking to stand out aesthetically in a competitive market. Regardless of the reason, advancements related to mass timber products and building systems have added a level of excitement to the market that's resulting in some truly remarkable buildings."
Katerra is the Premier Sponsor of the conference and Hexion the Gold Sponsor. Other sponsors include Freres Lumber Co., Seagate Structures, SmartLam, Sterling, TallWood Design Institute, Stiles Machinery, and D.R. Johnson Wood Innovations.
About Forest Business Network (FBN)
FBN is a top-tier consultancy, event marketer, and news and information source in the forest products sector. The FBN website is a go-to news resource for industry professionals. FBN's president and CEO, Craig Rawlings, is a nationally recognized expert in under-utilized timber and biomass.
About WoodWorks – Wood Products Council
WoodWorks provides free one-on-one project assistance as well as education and resources related to the code-compliant design of non-residential and multi-family wood buildings. WoodWorks technical experts offer support from design through construction on a wide range of building types, including mid-rise/multi-residential, educational, commercial, corporate, institutional and public.