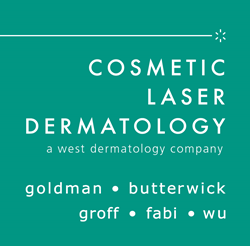 "It's great to speak about issues concerning our field and learn from our peers about the latest and greatest in dermatology, it's even more empowering to go back to our patients knowing that they are going to benefit from it," said Dr. Goldman
SAN DIEGO (PRWEB) October 27, 2017
The 2017 ASDS meeting, held this past October 5-8, featured countless networking opportunities, dermatologic surgery lectures and workshops, and more than one hundred exhibits. Held in Chicago, the event gave over 1200 dermatologic surgeons from all over the country a chance to glean the latest insights, engage with the latest tools, and even gain inspiration that can help improve patient care. Four of the board-certified dermatologists from Cosmetic Laser Dermatology attended the meeting, delivering a variety of lectures and presentations designed to impact the industry.
Mitchel Goldman, MD, board-certified dermatologist, founder of Cosmetic Laser Dermatology, Medical Director of West Dermatology California, and past-president of the ASDS, spoke on several topics regarding the running and management of a dermatology practice. "The ASDS is always one of my favorite conferences to attend all year," Dr. Goldman said. "I was honored to speak on the latest issues in managing a successful dermatology practice. It was especially gratifying to speak about the current hot-button issue of sexual harassment in the workplace; it's an issue that all employers should be on top of, but physicians especially should be due to the trust fostered between doctor and patient, which should never be violated."
Both Dr. Sabrina Fabi and Dr. Kimberly Butterwick were also prominently featured at the conference. Dr. Fabi was part of a panel that discussed how to incorporate videos into the marketing of a practice, including how the impact of social media is opening doors for both doctors and patients. Dr. Butterwick spoke at several sessions on the efficacy of body contouring treatments designed to help patients reach their aesthetic goals.
Dr. Fabi, who also co-directed a workshop on mastering techniques in administering facial fillers (Juvéderm and Restylane) and neuromodulators, such as Botox, said, "This annual event is always something I look forward to because the opportunity to learn about and discuss the latest procedures and techniques means we can deliver better patient care. I was flattered to speak about and lead a workshop on facial rejuvenation procedures because patients come to us to improve their lives and it's important for all of us dermatologists to be on top of our game."
Dr. Butterwick, who led a live patient demonstration on the use of Botox and fillers as well as moderated a session focused on delivering effective and attractive results with a combination of treatments, said, "I see many patients who want treatments that address multiple concerns such as wrinkles, sagging and volume loss in one session. It was imperative to discuss with my fellow dermatologists the best types of procedures that can most effectively be combined to deliver the safest, most effective results possible. Having a wide range of devices at CLDerm, we can customize each patient's treatment plan with a combination of fillers and other procedures for full rejuvenation."
While Cosmetic Laser Dermatology is well-known for delivering compassionate, top-notch patient care, it is also acclaimed for being a leader in research. Dr. Douglas Wu lectured on the steps necessary to start a successful, forward-thinking research practice.
Dr. Wu, who also lectured on picosecond laser treatment for stretch marks and under eye circles, said, "This year's event was the best yet that I've attended. Being able to talk about the latest in laser procedures and research practices was a thrill. I look forward to being able to help our patients learn more about their own skin and best health practices so that they improve not only their appearance but also their knowledge."
"It was a great experience for us all," Dr. Goldman added. "As Dr. Wu alluded to, although it's great to speak about issues concerning our field and learn from our peers about the latest and greatest in dermatology, it's even more empowering to go back to our patients armed with this awareness and knowing that they are going to benefit from it."
Cosmetic Laser Dermatology is an esteemed cosmetic clinic located in beautiful San Diego, California and a member of the West Dermatology network. The team of board-certified dermatologists is committed to providing each and every patient with the highest level of care in a comfortable setting. Cosmetic Laser Dermatology's dermatologists are all highly respected in the field for their use of innovative treatments, involvement in advanced medical research, and continued participation in clinical trials.
For more information please visit http://www.CLDerm.com
Cosmetic Laser Dermatology
9339 Genesee Ave #300,
San Diego, CA 92121
(858) 943-2113
inquiries(at)CLDerm(dot)com