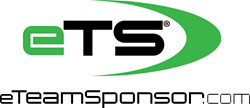 "The overwhelming success of raising millions for Junior College athletics across the country made this an obvious decision for us," says Sean Connors, CEO of eTeamSponsor.
CONCORD, Calif. (PRWEB) October 30, 2017
eTeamSponsor (eTS) has announced a three-year partnership renewal with an option to extend for two additional years through 2022 with the National Junior College Athletic Association (NJCAA), which designated eTS as the "Official Fundraising Partner of the NJCAA."
eTeamSponsor provides athletic programs the tools to raise thousands of dollars quickly and efficiently via its automated email, social media and mobile text technology. eTeamSponsor's platform and services has proven to raise significant revenue for NJCAA member colleges, while allowing their supporters the benefit of a full tax deduction.
"The NJCAA is very excited to continue its relationship with eTeamSponsor," said NJCAA Chief Operations Officer Mark Krug. "eTeamSponsor has proven to be one of the most successful partners for the members of the NJCAA. With over three million dollars raised for NJCAA member colleges since 2015, eTeamSponsor has provided a reliable revenue tool to athletic departments that has been helped fund scholarship opportunities for student-athletes, facility improvements and more. The NJCAA thanks Sean Connors and his staff at eTeamSponsor for their dedication and hard work for the NJCAA and its member colleges and we look forward to another five years of continued success."
"We are excited to announce the extension of our partnership with the NJCAA through 2022," says eTeamSponsor CEO Sean Connors. "The overwhelming success of raising millions for Junior College athletics across the country made this an obvious decision for us. From the national office leadership, to the regional directors and athletic directors, and to the coaches our team has had the pleasure of developing relationships with…we thank you all for your support. We look forward to continuing our strategic partnership and commitment to two-year college athletics."
About eTeamSponsor
Since 2010 eTeamSponsor (eTS) has partnered with institutions to provide an automated crowdfunding solution that's raised millions of dollars nationwide. They've been hailed as the missing piece for successful fundraising and complete transparency, connecting athletic department fundraising with advancement personnel. Having pioneered automated crowdfunding for athletic programs at 2-year colleges, eTS aims to provide the most efficient and effective platform to meet the transparent needs of fundraising decision makers before, during and after their fundraising process. Ultimately eliminating the inefficiencies, personal liability and financial risk of fundraising for good. eTS is committed to staying at the forefront of innovative technology and unparalleled client service to insure institutions reach their fundraising goals. For more information, visit eTeamSponsor.com.
About the NJCAA
Since 1938, the NJCAA has served as the nation's premier governing body for two-year collegiate athletics, providing student-athletes opportunities to PREPARE, COMPETE, SUCCEED and ACHIEVE in their academic and athletic disciplines. The NJCAA is the second-largest national intercollegiate athletic organization in the United States with over 500 member schools in 42 states. Each year over 3,400 teams compete in 25 different sports across multiple divisions in the NJCAA and the organization sponsors 47 national championship events and nine football bowl games. The NJCAA national office has been headquartered in Colorado Springs, Colorado since 1985. For more information please visit njcaa.org.