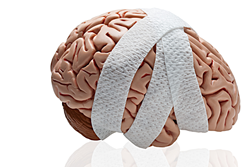 Doctors from around the United States are reporting higher numbers of patients with permanent brain damage from overdoses relating to fentanyl, heroin, and other opiates. Many of these patients suffer severe brain damage and are in vegetative states. The issue is serious.
VIENNA, Va. (PRWEB) October 27, 2017
The Brain Injury Association of America salutes the Trump Administration for directing the Department of Health and Human Services to declare the nation's opioid crisis a public health emergency. Opioid addiction, overdose, and death trends continue to rise dramatically throughout the United States. While President Trump's directive does not appropriate new funds to combat the epidemic, it does allow federal agencies to provide more grant money from existing budgets for prevention and treatment.
The explosive growth of opiate use in the United States is staggering. According to the Centers for Disease Control and Prevention, 64,000 people died from drug overdoses in 2016, a number that has nearly tripled since 2002. The number of Americans who survive an opioid-related overdose but suffer an anoxic brain injury (i.e., loss of oxygen to the brain) is unknown. "But we do know how debilitating anoxic injuries are," said Susan Connors, president/CEO of the Brain Injury Association of America.
Anoxic injuries are worse than traumatic injuries because damage to the brain is diffuse rather than focal, making it that much harder to overcome physical, cognitive, and behavioral impairments. "Individuals who survive overdose need co-occurring treatment for substance misuse and brain injury," Connors added.
Finding appropriately trained clinicians can be difficult, but the Brain Injury Association of America can help. Call 1-800-444-6443 for information.
###
About the Brain Injury Association of America:
The Brain Injury Association of America is the country's oldest and largest nationwide brain injury advocacy organization. Our mission is to advance awareness, research, treatment, and education and to improve the quality of life for all people affected by brain injury. We are dedicated to increasing access to quality health care and raising awareness and understanding of brain injury.