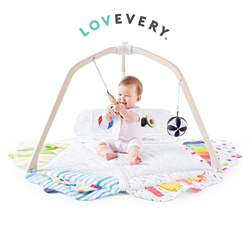 We designed The Play Gym to be exactly what babies need at each stage.
BOISE, Idaho (PRWEB) November 01, 2017
Thoughtfully designed by child development experts, The Play Gym is grounded in science for playtime with a purpose. This debut product from Lovevery is the only activity gym of its kind. Its patent-pending design is fully informed by developmental science, and the stage-based play guide included with it provides a full year of play and activities for you and your baby.
"Every parent wants to give their child the best," said Jessica Rolph, Cofounder and CEO of Lovevery, and Founding Partner of Happy Family Brands. "I had this nagging feeling that there was something more, something else that I could be doing to help my child's development. We designed The Play Gym to be exactly what babies need at each stage."
A whole year of play in one box, The Play Gym by Lovevery is:

Crafted with FSC-certified wood and mouthable organic cotton accessories.
Designed with five development zones that reveal or conceal to stop overstimulation and promote brain development.
Able to convert into a cozy Play Fort with its included Play Space Cover.
The only product of its kind including a Play Guide filled with inspiration and stage-based activities.
Ready to evolve through each learning stage of a baby's first year: it comes with an organic cotton ball, an organic cotton wrapped silicone teether, a sustainable wood batting toy, and four interchangeable learning card sets: black-and-white, body, objects, and mirrors.
The Play Gym retails for $140 and is available at loveverybaby.com and through Amazon.
"Substantial research has shown that a baby's brain grows by creating networks of associations, mostly based on new personal experiences. The usefulness of these networks of associations will affect the brain's efficiency, adaptability, and creativity in later years," said Dr. William Staso, author of Neural Foundations and Brain Under Construction. "Lovevery has taken the research on what experiences are most useful to babies and created a product that simplifies a science-based approach for new parents."
The Play Gym and all of its parts are compliant with ASTM F963 and have been rigorously tested by leading third-party labs.
ABOUT LOVEVERY
Founded by Jessica Rolph and Roderick Morris, Lovevery was started to help parents everywhere feel confident they are giving their baby the best resources they can. Lovevery play products are designed by child development experts and distilled to their simplest, purest purpose: to be exactly what children need at every stage. The company's first product, The Play Gym, is essential for all learning stages in a baby's first year. For more information about The Play Gym, visit loveverybaby.com.