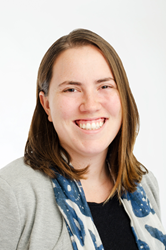 MUNCY, Pa. (PRWEB) November 02, 2017
Over the last year, Construction Specialties (CS) has commissioned a Philadelphia University graduate student to research and write a scholarly article. The goal of this unique union was to examine the impact of interior design on patients, staff and visitors in a healthcare environment.
Sally Dankner, a then-graduate student in Interior Architecture, was extended a grant to conduct research on the impact of interior design on patients in the healthcare environment under the leadership of Associate Professor/Architect Lauren Baumbach, AIA, IIDA, NCIDQ, IDEC, Director of Interior Design and Interior Architecture Programs at Philadelphia University. This interior design program is ranked among the top ten design programs in the nation.
"Healthcare settings can be extremely stressful environments for patients, families and caregivers," said Dankner, who earned her M.S. in Interior Architecture in May 2017 and is now an Interior Designer at EwingCole in Philadelphia, PA. "Growing scientific research shows that thoughtfully designed healthcare environments can reduce patient anxiety, create patient satisfaction and improve outcomes."
Dankner will be at the Healthcare Design Expo + Conference booth #1123 to discuss Use of Positive Visual Distractions and Color in Healthcare Settings to Reduce Patient Stress & Increase Patient Satisfaction, her grant-funded research article. Visitors can talk with Dankner, receive a summary white paper of her work and request her full article.
The schedule for her appearance is:
Sunday, November 12: 4:00 p.m.—6:30 p.m.
Monday, November 13: 10:45 a.m.—1:00 p.m.
"CS is focused on making buildings better with all its product lines," said Amy DeVore, Business Development Manager for Interior Wall Protection. "In the healthcare environment, this means solving complex building challenges to improve the lives of patients and healthcare practitioners who enter these facilities every day. Collaborating with students from leading design schools in which they can fully explore design impact helps us stay current. It also gives us valuable information to share with our design and manufacturing communities as well as our customers."
"CS' sponsorship of this research demonstrates their commitment to design," continued Dankner. "I am eager to share my findings at their Healthcare Design conference booth with fellow designers and attendees."
For more information about CS, visit http://www.c-sgroup.com.
About Construction Specialties
Founded in 1948, Construction Specialties (CS) is a specialty building products manufacturer. CS provides solutions to complex challenges that architects, designers, building owners, facility managers, and contractors face every day. Since inventing the first extruded louver, CS has become a global leader in interior wall protection, impact-resistant doors, entrance flooring, expansion joint covers, architectural louvers and grilles, sun controls, specialty venting, cubicle curtains and tracks. CS draws upon extensive expertise to design custom, high-quality products—many of which are a part of the Cradle to Cradle Certified™ Products Program. CS products can be found on some of the world's most significant architecture: One World Trade Center in New York City, The Shard in London and Burj Khalifa in Dubai.
###
Media contact:
Kathleen Rennie
krennie(at)ganton(dot)com
908-578-0968