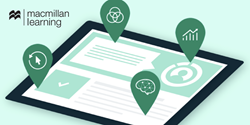 'Improving learner success is a complex process with many influencing factors. The responsibility couldn't be greater, nor the benefits more profound.' -- Chief Learning Officer, Dr. Adam Black
NEW YORK (PRWEB) October 30, 2017
Macmillan Learning today debuted its Learning Science and Insights website. This new site is designed to provide educators with an overview of the Macmillan Learning approach to human-centered design, learning research, impact research, and data & analytics.
"Improving learner success is a complex process with many influencing factors. The responsibility couldn't be greater, nor the benefits more profound," stated Chief Learning Officer, Dr. Adam Black. "So, for our contribution, at Macmillan Learning we wanted to lay bare how we go about developing the most empathetic, effective, and impactful digital learning solutions."
Visitors to the site will gain both an overview and see examples in action of how Macmillan uses design thinking to co-design with students, instructors, and institutions; how the company leverages the best learning science and insights from data mining; perspective on iterative design, and the surprises and insights into students discovered along the way.
An integral component of the company's approach to learner success lies in the partnerships with colleges and universities to execute rigorous studies. The data and insights stemming from these studies helps the company explore variations in how students, instructors, and institutions use a particular learning solution and the outcomes achieved. "Improving lives through learning is the center of everything we do and our teams are driven to ensure our content and tools help each learner reach their fullest potential," said CEO Ken Michaels. "We're delighted about the generous and passionate experts who work with the learning science and insights team to guide and challenge every step of our approach. We are continuously learning and improving, and aim to provide rigor and transparency in what we do."
The Learning Science and Insights website will regularly post news, events, insights, research findings, and more. To learn more about Macmillan Learning's approach to learning science and insights, go to http://www.macmillanlearning.com/catalog/page/learningscience.
About Macmillan Learning:
Macmillan Learning improves lives through learning. Our legacy of excellence in education continues to inform our approach to developing world-class content with pioneering, interactive tools. Through deep partnership with the world's best researchers, educators, administrators, and developers, we facilitate teaching and learning opportunities that spark student engagement and improve outcomes. We provide educators with tailored solutions designed to inspire curiosity and measure progress. Our commitment to teaching and discovery upholds our mission to improve lives through learning. To learn more, please visit http://www.macmillanlearning.com or see us on Facebook, Twitter, LinkedIN or join our Macmillan Community.