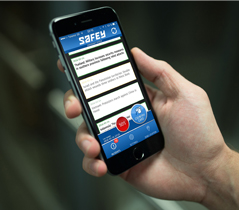 We are experiencing a much greater use rate than we did with our former system
(PRWEB) October 27, 2017
After extensive review of systems currently available, John Cabot University has selected the SAFEY Emergency System. Each student now receives a license for the SAFEY mobile app as part of their study abroad program.
A representative from John Cabot University stated, "We chose SAFEY over other platforms for several reasons. First, it is an app, and students seem much more amenable to its use than to a web-based tool. Second, SAFEY uses a system which quickly detects important safety issues and incidents all around the world. The system automatically generates a message which shows up as a notification in the app. The notification includes a description of the incident, a map locating the epicenter of the incident, and advice for what to do depending on the type of incident. Finally, the ability to quickly communicate with students, on-site faculty, and staff, determine their safety, and generate our own messaging about how to respond is invaluable."
The SAFEY administrator panel allows staff members to instantly communicate with students, and quickly determine their exact GPS location during an emergency. This also means that staff can more easily and rapidly notify parents and study abroad advisors that their students are safe. Even when students travel outside a program's primary destination, the SAFEY system will send administrators high level alert messages for the country the students are traveling through. Most systems rely on users to input their trip plans to staff manually. The SAFEY system takes the guesswork out of confirming student's safety using real-time GPS location.
The representative went on to say, "We are excited to partner with SAFEY in order to provide a state-of-the-art emergency notification system to our students. Fall 2017 marked the beginning of our adoption of SAFEY and we are experiencing a much greater use rate than we did with our former system."
About John Cabot University
John Cabot University is a small American liberal arts university in the Trastevere district of Rome, Italy. Our 1300 students hail from over 70 countries.
About SAFEY Emergency System
SAFEY Emergency System, http://www.safeyglobal.com, is a mobile-based warning, communication, SOS, & location system that allows administrators to be proactive in protecting and communicating with their study abroad students and faculty. The SAFEY system helps study abroad administrators and program providers with innovative and indispensable risk management tools to improve student health & safety.
###