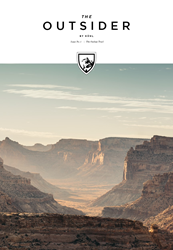 SALT LAKE CITY (PRWEB) November 21, 2017
Shattering conventional outdoor brand storytelling norms, The Outsider by KÜHL is a collector's edition product showcase and travel guide all wrapped into one. As one would expect there are enough gorgeous images of KÜHL designs to make a person want to replenish their entire wardrobe. But the compilation is about more than product shots – it captures the stories of real people making their contribution in one of the most storied and remote regions in the United States: the Outlaw Trail.
Not only do the pages – all 106 of them – showcase KÜHL in a way never seen before, but the book is full of people to be admired and destinations selected to inspire the next road trip. Imagine a Navy SEAL who, in his pain, turned to nature for healing and created a movement that changes the lives of other PTSD-stricken warriors; or a top-ranked architecture program that builds new homes designed to last seven generations in a dry desert; or two courageous women who've cultivated a flourishing farm-to-table restaurant juxtaposed between two isolated and contested parcels of public land in Utah. These are just a few of the visionaries featured in the pages of Issue No.1 The Outlaw Trail, by KÜHL.
There is one common thread that connects all of the outsiders featured in this premier issue: like KÜHL, they are all innovators who have embraced fearless independence and rebellion to take risks and chase their own creative dreams. These are artists and craftsmen and women who are pioneers of innovation and rebels against the mundane. These are The Outsiders.
Bonus Material
Included in the limited edition print publication is a map of the Outlaw Trail Region and a travel guide created by our in-house adventure travel expert - so readers can plan their own adventure along The Outlaw Trail. Online exclusives including video extras, exclusive stories and images of the region can be viewed at TheOutsiders.com as well as on Instagram @KUHLOutsiders. Everyone is invited to share their adventures by tagging their social media posts with #KUHLOutsiders. And, while quantities last, customers can go online to request a copy.
About KÜHL® Born in the Mountains®
KÜHL® [kül] German < 1.) English Translation: COOL
KÜHL ® is a product-driven apparel company with a passion for the outdoor experience. We are a group of artists, designers and athletes who collaborate to create great products that are timeless and in a constant state of evolution. Born in the Mountains, our innovative designs and technical fabrics have been enhancing movement and outfitting adventures for 30 years. KÜHL registered the new website theoutsiders.com in February 2017 to host original and exclusive online content.