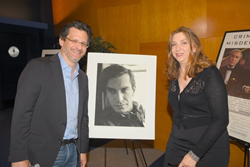 LOS ANGELES (PRWEB) October 31, 2017
It was an evening of tears, smiles and even laughter as the acting community recalled the humanity and astonishing talent of Martin Landau whose much honored career and life ended with his recent death at the age of 89.
Hosted by Turner Classic Movies' Ben Mankiewizc, the evening's eulogies, filled with wonder at the talent which established him as a consummate "actors' actor," were delivered among others by Paul Sorvino, Diane Ladd and John Voight who said he had not known or worked with Landau but was there "as an admirer of a master, and as I absorbed the recall of his humanity, I felt compelled to speak about a man I had never met except through his art." Landau's daughter Susan Landau Finch, who organized the tribute, described how Landau's empathy, which filled his art, also pervaded his rich love for his family. She delivered the comment of her mother, Landau's former wife and "Mission Impossible" co-star, Barbra Bain (who attended) "if they had analyzed his DNA, it would have said 'actor.'"
Landau, a three-time Academy Award nominee who won the honor for his performance as Bela Lugosi in Tim Burton's "Ed Wood," had directed the Actors Studio West since its founding with the late Sidney Pollack and Mark Rydell who was among the attendees. Filmed tributes shown includes those of Al Pacino, Ellen Burstyn and Woody Allen. Numerous ASW staff, students and members joined in the tribute.