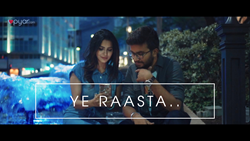 "The event signified a major turning point in Pyar.com's progression in development and growth, and we are more excited than ever to continue to put our best foot forward, all in the name of helping people find real, meaningful connections."
Edison, NJ (PRWEB) October 29, 2017
Pyar.com, the newly launched online dating platform for South Asian singles, played host to prominent Indian personalities and hundreds of others in attendance at Big Cinemas in Edison, NJ, for the public release of the brand-new music video, 'Yeh Raasta.'
'Yeh Raasta' is composed and performed by, and stars Prudhvi Chandra, an emerging playback singer from Hyderabad, India. He also served as producer and director for the music video. Chandra is most well-known for providing vocals on the track Crazy Feeling from the Telugu-language film Nenu Sailaja, which has nearly 40 million views on YouTube. The 'Yeh Raasta' video also stars Ashu Reddy, an actress, model, and social media influencer.
Pyar.com is a new online dating platform for the South Asian community across the globe. Its mission is to guide single people of South Asian heritage/nationality through the process of making meaningful matches and find lasting connections. Pyar provides an online dating experience through innovative filtering, strong safety measures, stellar customer service, and a personal touch that resonates with people at every stage of relationship readiness.
"When we saw the raw talent that Prudhvi had, we made the decision to solidify the partnership quickly and move things along in tandem with our official website and mobile app releases," said Stephanie Wong, Product Manager. "The 'Yeh Raasta' production has brought life to our marketing campaign - not only with the catchy, upbeat song, but with a unique narrative and high-quality cinematics."
Pyar.com CEO Vidyadhar Garapati, along with members of the Pyar team, were on hand to welcome and thank everyone who turned out. Along with the premiere of 'Yeh Raasta,' the Pyar team announced the release of the Pyar mobile app, free to download on the Google Play Store.
"The Pyar app gives you the ability to use all of the wonderful features Pyar has to offer anytime, anywhere, right in the palm of your hand," said Vidyadhar Garapati, Pyar.com CEO. "In a time where people are always on-the-move, it's difficult for some to take the time to date or meet new people. With the Pyar app, you can safely and easily search for and chat with single people in your area during your busy schedule."
At the event, the Pyar team was humbled to welcome Upendra J. Chivukulu, NJ Board of Public Utilities Commissioner, as the chief guest for the audio release event.
Also among the special guests in attendance to celebrate the release of 'Yeh Raasta' and the Pyar app were:

Playback singer and dubbing artist Geetha Madhuri, known for the song Ninne Ninne from the movie Nachaule, for which she won the Nandi Award for best female playback singer, also showed her love and support for Pyar.
Singer and actor Anand Srikrishna, better known as Nandu, who started his career with the 2007 film 100% Love. Nandu and Geetha Madhuri also happen to be married, having met on the set of the short film Adithi.
Sumangaly Ariyanayagam, better known as Sumangaly, a singer from Chennai, India, best known for the song Navvula Puvvulu.
Hemachandra Vedala, or Hema Chandra, a playback singer and a music director who was the 2nd runner-up at the Sa Re Ga Ma Pa Challenge 2005 singing competition.
Sameera Bharadwaj, a leading playback singer of Indian cinema, who has recorded songs for films in various Indian languages, including the song Telusa Telusa for the 2016 film Sarrainodu.
TV host Srilakshmi Kulkarni performed as MC for the event, introducing segments and welcoming guests to the stage.
"The event signified a major turning point in Pyar.com's progression in development and growth, and we are more excited than ever to continue to put our best foot forward, all in the name of helping people find real, meaningful connections," Wong continued. "It was heartwarming for the team to be able to celebrate with numerous esteemed guests. While love is universal, we needed to make sure the kind of love we advocated for catered to the South Asian demographic, while being consistent with our branding. We are excited for the growth we have seen thus far and are looking forward to bring Pyar to not only India and the United States, but to other countries across the globe. Our value propositions collectively exceed any online dating platform out there focusing on the Indian community, and we will continue to customize Pyar.com to the needs of our users who are tired of unfruitful dating services and looking for a real relationship."
For More Information
For more information, please visit http://www.pyar.com, or contact Stephanie Wong, Product Manager, at 732-289-9089 or email marketing@pyar.com.