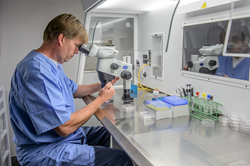 (PRWEB) October 28, 2017
Cryos International – USA, a leading Sperm and Egg bank operating out of Orlando, Florida with headquarters in Denmark, announces new milestones this year. The sperm and egg experts will be attending this year's ASRM (American Society for Reproductive Medicine) Expo and are celebrating their 30 year anniversary as an industry leading sperm bank.
This big milestone is followed closely by the rapid growth of their Egg Bank and the success rates seen with their clinical usage.
Cryos opened their US Sperm bank headquarters in 2015. Their fully Independent free-standing Donor Egg Bank with in-house embryology lab and surgical centre opened in 2016 and has been exceeding expectations, with over 100 egg donors of varying ethnicities already available. As leaders in donor egg vitrification and thawing processes, they welcome the opportunity to continue building mutually beneficial relationships with clinics nationwide and at ASRM.
The demand and awareness for donor eggs has grown substantially in the US and is anticipated to continue growing. Knowledge empowers people that want to grow their families but cannot do so naturally for varying reasons. There are many factors that contribute to the increased demand and it is Cryos' privilege to be in a position to help give the gift of life.
In attendance at ASRM there will be leading members of the Cryos International including Cryos' Tissue Bank Director Corey Burke, Clinic Relations staff and other members of the Cryos team that are able to address any enquiries. Stop by Booth 215 to discuss any questions you may have, or set up a meeting. Cryos International looks forward to continuing collaborating with clinics and reproductive specialists across the country.
------
About Cryos International
Celebrating 30 years of experience and delivering to more than 80 countries, Cryos International is a trusted industry leader. As the world's largest sperm bank, and first free-standing, independent egg bank in the United States, Cryos aims to ensure a wide selection of high-quality, extensively screened donor sperm and eggs from all races, ethnicities and phenotypes. To Cryos, high quality and professional service has always ranked as the most important issue in our relations with clients.
Cryos continuously works hard on improving and expanding its services.
For more information about Cryos International, visit our website.
To Cryos – it's personal.
---
Media Contact:
Corey Burke
Cryos International
Tissue Bank Director
407-203-1175 Ext: 5003
cb(at)cryosinternational(dot)com