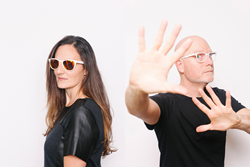 "Our focus really is about building human connections. As it turns out, our clients, our partners, our team, and even consumers are all humans, so it's crucial we understand them and don't forget about them," Carlton adds, "Humans are people, too."
Portland, Oregon (PRWEB) October 30, 2017
An odd sounding headline for sure, but it captures the mystique of a new creative agency founded by former SET/WPP agency directors Danica Wilson and Louis Carlton. After years of breathing life into some of Nike's biggest experiences such as NBA All-Star Weekend, the NFL Super Bowl, Air Max Day, and the Olympics, the duo decided to join forces and take a slightly skewed approach to the agency world.
"We both were like, let's break down some of the barriers and make the entire design experience more approachable, more relatable, and more personal," says Carlton. Their agency model puts people – or "humans," as they like to say – at the center of everything they do. "Our focus really is about building human connections. As it turns out, our clients, our partners, our team, and even consumers are all humans, so it's crucial we understand them and don't forget about them," Carlton adds, "Humans are people, too."
"We help brands find their voice, which is fun and inspiring, but we don't stop there. We're involved throughout the entire process, ensuring their voice is heard," says Wilson. As she sees it, "Delivery is really important. We are grounded in the reality of what it takes to get things done right, which creates a real sense of ownership. We've found that established brands appreciate this approach just as much as start-ups do."
And it seems to be working. "We're really fortunate to have a good fan base. We had clients calling us before we had a space, a website, or even a name. It really meant a lot on a very personal level," says Carlton. That fan base didn't happen overnight, as the pair has an extensive history working with a lengthy roster of household name brands, including Nike, Adidas, Xbox, BMW, Google, Sprite, Lululemon, and Arc'Teryx, to name a few.
And what about that name? Plastic Sunshine. As Wilson describes it, it's a bit of a Rorschach test, leaving readers to make up their own minds. When pressed for a clear definition, she politely asks: "What does it mean to you?"
Approachable and mysterious. Challenging yet welcoming. It's a potent mash-up that seems to have found its voice in the humans that are Plastic Sunshine.
More about Plastic Sunshine:
We are Plastic Sunshine. We design and deliver for modern brands. Fluent in strategy, branding, packaging, photo & video, content creation, environments, and experiences, we use the right channels to speak to the right humans.
Based in Portland, Oregon, we work with a range of local, national, and global clients.
We exist to inspire.
For less information, visit http://www.plastic-sunshine.com