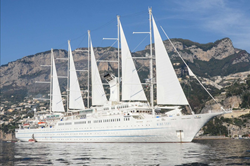 We're all excited about Wind Surf's new sails. Our guests really appreciate the romance of sailing and the evening Sail-Away is a time-honored event for guests and crew alike, a time to celebrate an amazing day of discovery while anticipating new adventures on the horizon.
SEATTLE (PRWEB) October 30, 2017
Windstar Cruises' flagship sailing vessel Wind Surf, one of the largest motor sail yachts (MSY) in the world at 14,745 GRT, recently received crisp new sails, nearly half a football field worth of sturdy Dacron sail-cloth measuring 21,570 square feet. Wind Surf's five new sails were hand-crafted in France by a world-class team of maritime designers and artisans at Incidence Sails, the nation's largest commercial sailmaker. The crisp couture sails, replaced approximately every five years, are a show stopper, elevating the elegant look of Windstar's iconic sailing vessel. The impressive ship is 617 feet (187 meters) in length and has a beam of 66 feet (20 m.).
Spread across Wind Surf's five towering masts, the sails make up more than a half-acre of stunning triangular beauty. The ships sails unfurl daily soaring 221 feet (67.5 m.) to the sky, harnessing the power of the wind to propel the ship through the world's most famous sailing grounds. Gliding elegantly into hundreds of ports from the timeless seas of the Adriatic and Baltic to the Mediterranean's chic shores and the Caribbean's carved coast lines, the mammoth sailing yacht cuts an impressive appearance carrying an exclusive 310 guests on each memorable Wind Surf sailing voyage.
"We're all excited about Wind Surf's new sails. Our guests really appreciate the romance of sailing and the evening Sail-Away is a time-honored event for guests and crew alike, a time to celebrate an amazing day of discovery while anticipating new adventures on the horizon," remarked Windstar President John Delaney. "Out on deck, guests meet and mingle as our crew work their magic, deploying the sails and building the drama of Sail-Away while a crescendo of Vangelis' musical masterpiece 'Conquest of Paradis' sets the mood for adventure. Cruise guests connect over toasts and tears of joy at this amazing experience; it's that magic of time, place and emotion that truly speaks to you. The moment you hear and feel the sails snap at the power of the wind – this experience is unmatched in travel, it sets Windstar apart in the best way possible."
Leading French sail maker Incidence Sails, the largest commercial sailmaker in France and premier designers in the off-shore racing and Super Yacht sectors, designed Wind Surf's sails and completed the manufacturing on the floors of spacious facilities in Brest and La Rochelle, France over several months, delivering the sails in two installments. The project was carried out in close collaboration with the company's Charentais and Breton design offices by noted designers Stéphane Amiot and Maxime Paul, who sailed for France's Olympic Sailing Team in the 1992 Olympics.
A dramatic time-lapse video of the making of the sails was recorded at Incidence Sails facility. Each sail is made up of anti-UV Dacron sail cloth and Incidence Sails was commissioned to manufacture five furling jib sails each measuring an area of 3,800 square feet (355 square meters) and one fore jib sail at 2,570 square feet (240 square meters) for a total of 21,570 square feet (2,015 square meters) of crisp white sails towering on masts that stand at a height of 221 feet (67.5 m.).
Commenting on the intricate and unusual operation of installing each of the giant sails, Wind Surf Captain Pedro Pinto stated, "We needed to check the forecast for the perfect conditions to have just a light breeze, the crew already has a good knowledge of the process and with each sail it gets easier with experience. The guests and crew love to see the new sails!"
Each sail installation took approximately four hours and was completed by Wind Surf's Deck Department of 22 led by Captain Pinto. Three sails were installed in August in Copenhagen, Denmark and the remainder on October 17, in Amalfi, Italy. Guests on board were treated to a rare experience viewing the installation from the open decks below. The computerized sails are self-furling and operate remotely from the Bridge with fore and aft guidance from the ship's Nautical Officers. Wind Surf's top speed under sail power alone was recorded at 15.6 knots during a transatlantic ocean crossing.
Ship deployment and itineraries for all of Windstar's ships are planned around unique and scenic sailing experiences with leisurely days at sea, Sail-Away at sunset, and cruising notable coasts and waterways including the white cliffs of Dover, France's Les Calanques, the Corinth Canal, and the Strait of Gibraltar. Wind Surf offers winter sailing to the hidden harbors of the Caribbean and an extended summer cruising season in the Mediterranean from April through October. The ship has a long connection to France (ex. Club Med 1) having been designed and built in 1991 in Le Havre by the Chantiers de l'Antique shipyard and joined Windstar's fleet in June 1998 after being rechristened in Nice, France.
The line will be repurposing the replaced sails by having them made into bags that guests may purchase in the onboard gift shops on board the fleets six ships.
For more information on Wind Surf's new sails project or yacht-style cruising with Windstar, contact a travel professional or Windstar Cruises by phone at 877-958-7718, or visit http://www.windstarcruises.com.