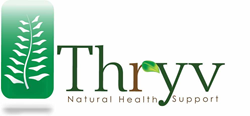 "Dr. Wyche states he believes in the SEEDSS of life which are six important areas that can impact health and happiness for the better. They are Sleep, Exercise, Elimination of Toxins, Diet, Stress Management and Supplements".
(PRWEB) October 31, 2017
Thryv, an online start-up health supplement company is on a mission to provide value in their products that empower people to lead healthier lives. Thryv is introducing their organic, vegan, non-GMO, gluten free, BPA free, and no artificial flavors, colors, or preservatives supplements line. Thryv is addressing today's most common health concerns delivered to your door step specifically tailored and pre-packaged in just one bottle ready to go.
Why Thryv.net
Until now, consumers searching for health supplements are forced to buying several separate items in various different bottles, unnecessary packaging and additional costs. Thryv has a solution. For example, their "Women's 35 + Support Pack" product bottle includes: 2 Multivitamins, CoQ10, Omega 3, Probiotic, extra Magnesium and Chromium. This one single on-the-go pack will support an increase in energy, brain power, and blood circulation.
Thryv's Founder and CEO, Dr. Melville Wyche has spent over 20 years working on ways to improving his health and well-being. He is convinced that lifestyle plays a significant role in one's own health. When taking supplements it can provide additional nutrients when a balanced diet is lacking or when certain health conditions cause an insufficiency or deficiency in the body's overall equilibrium. Thryv Supplements were designed to make choosing a healthy and active lifestyle convenient and hassle-free.
Thryv Supplements
Thyrv's supplements are formulated and manufactured in the USA that's ISO 9001 and USP certified. Thryv.net provides the highest attention to quality and detail, from sourcing of top-quality ingredients to finished product testing. Thryv is taking its mission with plans to expand to International markets next year. Thryv remains committed to its original mission – to provide value in products that empower people to lead healthier active lives. For more information visit https://thryv.net