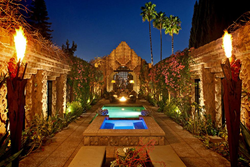 POMPANO BEACH, Fla. (PRWEB) October 30, 2017
"Top 10 Halloween News"
The loud crash in the middle of the night, lights that turn on by themselves, giant shadows that creep across the October night sky and the scratching at the window on a blustery night. It's Halloween, that spooky time of the year when ghosts, goblins and zombies might be just around the corner. From Lizzie Borden's ax house in Massachusetts to Michael Jackson's Southern California Neverland Ranch where some of his fans believe his spirit still lives, and a New York gilded-age mansion that was once one of the most beautiful homes in the United States but now looks like something from a Hannibal Lecter nightmare, TopTenRealEstateDeals.com picks the Top 10 Halloween news stories for 2017.
Articles include:
"Top 10 Haunted Houses For Sale"
Looking for a new home that is a bit different than the two-story colonial with a white picket fence, two-car garage, pool and lush lawn? How about a haunted house?
"Buying a Haunted House"
Would anyone buy a haunted house? If it was a really good deal, many people say they would buy a haunted house.
"Halloween Celebrity Costumes"
Hollywood celebrities are in costume for Halloween including Kim Kardashian as Cher and Demi Lovato as Selena.
"Best Trick Or Treat Towns"
According to a recent study, San Francisco is the best U.S. city for Halloween candy gathering. Results are based on home values (rich people give better candy), kids under age 10 and single-family home density. San Jose and Philadelphia round out the top three Halloween towns.
"White House Halloween Treats"
The White House is going all out this year for Halloween with creepy decorations and candy for the kids.
Check out the rest of the Top 10 Halloween 'spooktacular' stories at TopTenRealEstateDeals - where real estate is never boring.
And visit TopTenRealEstateDeals.com for more celebrity, historic, famous and haunted homes for sale including Johnny Carson's Malibu cliff house, Richard Nixon's Western White House and Katy Perry's Hollywood Hills mansion.