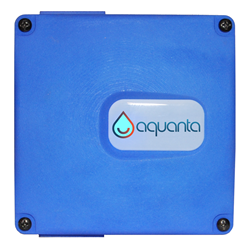 Electric Co-Ops have a huge legacy installed base of water heater controls that needs replacement over the next decade.
Tysons, VA (PRWEB) October 31, 2017
Aquanta Inc. and the NRTC announced today an exclusive distribution partnership to bring Aquanta's market-leading smart water heater controller to the nation's electric utility cooperative community. They also announced a limited-time Demo Package available to NRTC members interested in the Aquanta system.
"Electric Co-Ops have a huge legacy installed base of water heater controls that needs replacement over the next decade," stated Matt Carlson, CEO of Aquanta Inc. "With its long and deep relationship with this community, we view the NRTC as our ideal partner in helping modernize these legacy grid assets."
"We have been repeatedly asked by our members for a 21st century approach to water heater control," noted Ed Drew, VP of Utility Solutions for the NRTC. "We think the Aquanta solution is best-in-class and are excited to bring it to our membership."
To celebrate the launch of this partnership, NRTC is offering to its members a limited-time Demo Package that includes discounted pricing on a batch of Aquanta systems, six months of free access to Aquanta's Fleet Management dashboard, consultation on fleet analytics, and more. This Package is only available for orders placed by 12/31/17, so NRTC members are encouraged to contact their regional business manager to learn more.
About Aquanta Inc.
McLean, VA-based Aquanta Inc. (formerly Sunnovations Inc.) develops innovative products and technologies that address climate change and enhance energy efficiency, with specific focus on the energy usage, inefficiencies and grid integration opportunities inherent in our water heating and plumbing systems. For more information on Aquanta, please visit http://www.aquanta.io.
About NRTC
We are Member Driven and Technology Focused. NRTC provides solutions that help our 1,500 electric and telephone members bring all of the advantages of today's evolving technology to rural America. NRTC's solutions are developed specifically to meet the needs of rural utilities and their customers, and include integrated smart grid and utility solutions, advanced energy, broadband infrastructure and managed network services, wireless technologies and programming distribution capabilities for video and broadband providers. NRTC helps ensure our members' success by aggregating their individual buying power, negotiating national contracts, helping members integrate technology solutions with their existing infrastructure and supporting members following implementation. For more information, visit http://www.nrtc.coop.
####