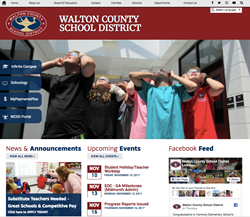 ATLANTA (PRWEB) October 31, 2017
A website created by eSchoolView took the top honor in a statewide competition hosted by the Georgia Chapter of the National School Public Relations Association.
The Walton County School District was awarded a Gold Award of Excellence during the organization's annual conference for its form and function. It received a perfect score from the judges.
eSchoolView, based in Columbus, Ohio, created the tailor-made site to bring new capability and easy navigation to the district's web presence.
"We redeveloped the site to deepen the district's ability to connect with the community it serves," O'Leary said. "It's gratifying the site won an award for its design, but the recognition also speaks to how Walton is using the site to keep the information relevant."
Walton began working with eSchoolView earlier this year, Public Relations Officer Callen W. Moore said.
"Spearheading a complete website redesign for our district and all 15 schools was a bit daunting, to say the least, but eSchoolView provided our team with high-quality work and exceptional customer service for an affordable price," she said. "The staff worked diligently to listen to our needs, ideas and plans and successfully brought them to life. Allowing us to pick and choose options that would best serve our users, eSchoolView created a custom site unique to our district."
Intuitive navigation, an emphasis on upcoming events and the prominent role of a photo gallery are key elements to the new designs. Less emphasis on text also increases interaction between the site and end-user.
The mobile performance of the site also improved dramatically with eSchoolView's responsive design. The site is optimized to display on a variety of platforms and can be accessed through eSchoolView's KnowItAll app which is available for free in the iOS and Android app stores. 
eSchoolView builds custom websites for K-12 schools — public, private, charter and faith-based — and education organizations with its easy-to-use Content Management System (CMS). The CMS platform works with a number of integrated products and helps clients expand their reach with the ability to embed blogs, surveys, RSS feeds, e-newsletters, podcasts and videos.
Websites created by eSchoolView are often recognized at the state level and have received significant national praise. The National School Public Relations Association (the parent of GSPRA) also recognized eSchoolView sites this year, Grayson County Schools in Kentucky and Shaker Heights City Schools (Ohio).
OneView, eSchoolView's solution for enhancing data integration, was recognized as a 2016 Cool Tool by EdTech Digest. OneView allows school districts to read and push data back into various student information systems (SIS), such as ProgressBook and PowerSchool. In turn, the software increases internal efficiency and parent engagement through one login.
eSchoolView was created in 2008. Its revenue growth lands the company on the Inc. Magazine's 5000 list of fastest growing privately held companies in the U.S. for the fourth consecutive year.