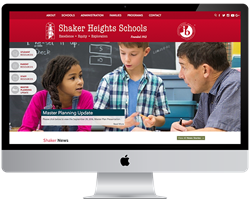 We owe a great deal of our success to our clients.
COLUMBUS, Ohio (PRWEB) October 31, 2017
eSchoolView is among a very small group of companies that have won the Best of Columbus Award for four consecutive years. This distinction has qualified the local company for the 2017 Columbus Business Hall of Fame.
Each year, the Columbus Award Program identifies one company in each category that has achieved exceptional success. The winning companies are selected for enhancing the positive image of small business through service to their customers and local community.
eSchoolView builds custom websites for K-12 schools — public, private, charter and faith-based — and education organizations with its easy-to-use Content Management System (CMS). The CMS platform works with a number of integrated products and helps clients expand their reach with the ability to embed blogs, surveys, RSS feeds, e-newsletters, podcasts and videos.
"It's humbling to be selected as the best of the best within the metro area, but the award certainly supports our work philosophy," eSchoolView Executive Director Rob O'Leary said. "We created eSchoolView less than 10 years ago so this is a testament to the dedication of our team."
Various sources of information were gathered and analyzed to choose the winners in each category. The 2017 Columbus Award Program focuses on quality, not quantity. Winners are determined both internally by the Columbus Award Program and data provided by third parties.
"We owe a great deal of our success to our clients," O'Leary said. "The products we build are based on their feedback and specific needs."
eSchoolView created OneView, for example, to enhance data integration. The software helps school districts increase internal efficiency and parent engagement by pushing and pulling—with one login—student database information (enrollment details, health records, athletic eligibility) from various student information systems (SIS) such as ProgressBook, PowerSchool and eSchoolPlus.
O'Leary said his company's goal is to help schools and educational organizations build relationships with their primary stakeholders: parents, community members, and staff and students. eSchoolView's websites are built on an easy-to-use Content Management System the company specifically developed for the industry.
The Columbus Award Program is an annual awards program honoring the achievements and accomplishments of local businesses throughout the Columbus area. Recognition is given to companies that have shown the ability to use best practices and implemented programs to generate competitive advantages and long-term value.
The organization works exclusively with local business owners, trade groups, professional associations and other business advertising and marketing groups. Its mission is to recognize the small business community's contributions to the U.S. economy.
The Best of Columbus award is just one of eSchoolView's recognitions this year. Its revenue growth landed the company on the Inc. Magazine's 5000 list of fastest growing privately held companies in the U.S. for the fourth consecutive year.