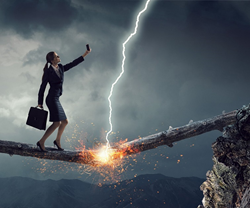 Common sense and current cyber-security solutions go a long way toward mitigating personal and business technology risks.
Hoboken, New Jersey (PRWEB) October 31, 2017
In a Halloween-themed article on the eMazzanti Technologies website, a NYC area IT security consultant and MSP discusses the horrors we should fear from computers, smartphones, hackers and viruses and similar scary tech.
In the informative article, the company unearths some of the dangers of improper technology use such as risky selfies, headphones in lightning storms and walking while texting. The article then frightens readers by naming recent data security breaches and online threats.
"Many take chances with their health or customer information by improperly using technology," stated Jennifer Mazzanti, CEO, eMazzanti Technologies. "Common sense and current cyber-security solutions go a long way toward mitigating personal and business technology risks."
Below are a few excerpts from the article, "Scary Tech: The Stuff of Nightmares."
"Forget the haunted house and bloody claw this Halloween. Your computer screen and smartphone offer plenty to keep you wide-eyed and shivering with fear in the middle of the night. From the truly bizarre to horrors that fail to frighten you nearly as much as they should, scary tech gives you ample reason to scream."
"Selfied to death — Did you know that you are more likely to die by selfie than by shark attack? Be smart, people. If you must take a selfie, avoid precarious ledges, cuddly bear cubs and loaded firearms. Selfie deaths are on the rise."
"Listen. Can you hear that? — Of course, you can't. Because, you have noise-canceling headphones and music blaring away while you run. Not only do you risk damaging your hearing, but you might just miss the blast of a train whistle or the sound of a car horn just before you get hit. Listen to the birds instead."
"They will steal your soul — Identity theft hit a record high in 2016. With the recent Equifax hack exposing personal data of over 145 million consumers, you can no longer afford to rest easy. Implement strong passwords. Monitor your financial accounts and your credit regularly. Avoid using public Wi-Fi for any transaction involving sensitive data."
The Antidote for Scary Tech
From bizarre scary tech deaths to the freakishly common computer hack, technology poses risks to both an individual's health and their personal data. Tech users can reduce those risks by educating themselves and taking precautions.
For organizations, the risks of scary tech threaten not only its reputation but also the personal and financial data of its customers. With increasingly complicated dangers, business leaders need modern, sophisticated cyber-security solutions. The experts at eMazzanti Technologies safeguard business assets with world class security solutions tailored to individual business needs.
Related resource information:
How the Cloud Eliminates Your Top Three Data Security Risks
6 Ways to Help Business Disaster Recovery
About eMazzanti Technologies
eMazzanti's team of trained, certified IT experts rapidly deliver retail and payment technology, digital marketing services, cloud and mobile solutions, multi-site implementations, 24×7 outsourced network management, remote monitoring and support to increase productivity, data security and revenue growth for clients ranging from law firms to high-end global retailers.
eMazzanti has made the Inc. 5000 list eight years running, is a 2015, 2013 and 2012 Microsoft Partner of the Year, 2016 NJ Business of the Year, 5X WatchGuard Partner of the Year and one of the TOP 200 U.S. Microsoft Partners! Contact: 1-866-362-9926, info@emazzanti.net or http://www.emazzanti.net Twitter: @emazzanti Facebook: Facebook.com/emazzantitechnologies.