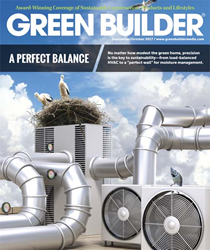 "There is a perception that 'green' or high-performance homes are something that only the wealthy can afford. We wanted to design a house that would shatter that perception." —builder David Jones on his first-ever Housing Innovation Award from the U.S. Dept. of Energy.
LAKE CITY, Colo. (PRWEB) October 31, 2017
No matter how modest the green home, precision is the key to sustainability—from load-balanced HVAC to a "perfect wall" for moisture management.
Read Green Builder magazine's annual Building Science issue which covers the Department of Energy's Zero Energy Ready Home program; a nonprofit's airtight home that pays its own way in energy use; the water saving features of Shelter Dynamic's Flex House and more.
The complete issue can be read online at http://www.greenbuildermedia.com/current-digital-issue-of-green-builder-magazine.
About Green Builder Media
Green Builder® Media, LLC is the nation's leading media company focused on green building and sustainable living, affecting positive change by providing inspirational information to over 200,000 progressive building professionals and 38 million consumers who are interested in sustainable living. With a comprehensive suite of content marketing, digital, social, and print media options, high-profile demonstration projects, market research, and live events, Green Builder Media offers a blend of visionary and practical information covering a broad spectrum of sustainable living topics, including Internet of Things, smart home technologies, energy efficiency, water conservation, indoor air quality, resilient housing, renewables and clean transportation. For more information, visit http://www.greenbuildermedia.com.