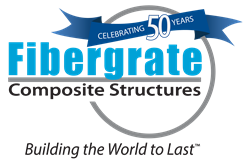 DALLAS (PRWEB) October 30, 2017
Fibergrate Composite Structures is excited to announce the addition of four new rooftop safety products: DynaRound RG™ (Roof Guard), DynaRound Hatch Guard, DynaRound Warning Lines, and the DynaWeight Fall Arrest System.
DynaRound RG™ (Roof Guard), Fibergrate's ballasted rooftop guardrail system, is designed for rooftop safety and fall protection. This system is made of durable, weather-resistant fiberglass reinforced plastic (FRP) composite uprights and non-FRP counterbalance weights with connector components. DynaRound RG provides the utmost in safety by protecting against injuries or death from accidental falls from the roof.
The DynaRound Hatch Guard provides a non-penetrating, affordable solution to mandatory rooftop entry/exit protection. This hatch protection system can be easily set up and used for both temporary and permanent solutions. The self-closing gate eliminates the risk of falling into the hatch. DynaRound Hatch Guard does not require drilling into the roof and can be easily installed in an hour or less.
The new DynaWeight Fall Arrest System is the perfect solution for fall protection when circumstances require non-penetrating versatility. This non-penetrating counterweight system sets up quickly and is easy to move.
DynaRound Warning Lines are designed to eliminate the risk of falls by creating a roof top safe zone. There are two options available: Heavy-Duty (HD) Warning Lines and Light-Duty (LD) Warning Lines. The HD Warning Line system is a long term warning system with heavy-duty base plates, plastic coated cable and your choice of plastic or metal pennants. The LD Warning Lines are generally used for temporary applications and feature folding stanchions with a nylon line and vinyl flags that can be set up quickly.
With over fifty years in business, Fibergrate products are proven to deliver years of reliable service even in the most demanding environments. These rooftop safety products can be used in conjunction with Fibergrate's existing line of rooftop safety products including FRP Stair Crossovers, FRP Ship Stair Crossovers, FRP Dynarail ladder, and slip resistant surface grating with rubber feet.
For additional information, visit fibergrate.com/products/rooftop-safety-products/.