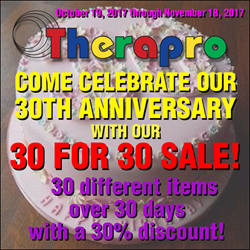 Our focus has always been providing families and professionals with the highest quality products at reasonable prices
FRAMINGHAM, Mass. (PRWEB) November 01, 2017
October 2017 marked 30 years of business for Therapro, Inc., a multi-dimensional company dedicated to providing the highest quality, most innovative, and most economical therapeutic and educational resources for therapists, educators, families, and other caregivers. To mark the occasion, the company has been offering its customers 30% off select products for an entire month, ending November 18.
Therapro has grown from a small therapy products company to a world-renowned Occupational Therapy expert resource. Company President and Founder Karen Conrad Weihrauch says, "Our focus has always been providing families and professionals with the highest quality products at reasonable prices. Having been in the profession for almost 45 years, I've seen striking differences between where we started as a company and where we are now. When I first began my career as an Occupational Therapist, there were very few OTs. Now we are seeing the next generation of OTs, and the tremendous growth of the profession in response to the need of OTs in many areas. Therapro has the distinction of providing many specialized supplies and equipment to clients of different ages and across many settings. From children with autism to an adult with mental health issues to an aging adult who has had a stroke, Therapro has helped them to achieve their goals. As demand for these specialized products grew, so did the company. These products, along with our vast selection of assessments, have contributed to our lasting success."
Therapro's product line spans all ages and abilities, from infants to adults, for preventive, developmental, and rehabilitative care. The company is occupational therapist owned and operated for 30 years, with expert understanding of evaluations and assessments, as well as therapeutic service provision, and a focus on education/professional development. Free monthly seminars give a chance to showcase the latest research and educational trends in all aspects of therapy from a wide variety of qualified speakers and educators.
About Therapro:
Therapro is the therapy resource for families and professionals! We provide therapists, teachers, parents and other caregivers with the highest quality and most economical therapeutic and educational resources for all ages and abilities, from kids to adults. Our goal is to provide unique speech and occupational therapy supplies for preventive, developmental, and rehabilitative care. With the right tools, including occupational therapy assessments and evaluations, kids and adult activities, games, products and toys, developing gross motor skills, fine motor skills and communication skills is less frustrating, and will result in better outcomes in a shorter period of time.
For more information, please visit therapro.com or email marketing(at)therapro(dot)com