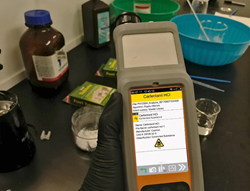 Tokyo, Japan (PRWEB) October 31, 2017
Rigaku Corporation is pleased to announce that Rigaku Analytical Devices, a leading provider of innovative handheld Raman spectrometers, is a key sponsor and presenter at the 6th WCO Technology and Innovation Forum. The event, hosted by the World Customs Organization and the Customs Administration of Japan, takes place at the Hilton Tokyo Odaibain in Tokyo, Japan, from 31 October to 2 November 2017.
The forum was established to provide a comprehensive overview of available technological solutions and the latest innovations to assist daily border inspection activities, promote best practices on their use, and provide a platform for dialogue between the public and private sector to discuss technology developments and needs. Rigaku is a Diamond Sponsor of the event.
In addition to hosting a welcome reception and networking event, Rigaku will host an informative session entitled, "Expanded Contraband and Threat Identification Using 1064 nm Handheld Raman" presented by Mr. Bree Allen, President, Rigaku Analytical Devices, Inc. The presentation will offer solutions for optimizing flow, safety and security of global supply chains and highlight the performance of the Rigaku Progeny ResQ handheld Raman analyzer.
Designed to provide emergency responders, law enforcement agencies and the military with at-scene chemical analysis and threat identification, the Progeny™ ResQ™ analyzer provides comprehensive threat detection in a handheld platform. With its unique 1064 nm excitation laser, the Progeny ResQ analyzer can measure colored solids and liquids as well as substances through containers, overcoming issues of fluorescence interference that affect other handheld Raman devices.
To find out more about the capabilities of the MIL-STD 810G certified Progeny ResQ analyzer with 24/7 reachback support, please visit the Rigaku Analytical Devices team at the event or visit http://www.Rigaku.com/ResQ
About Rigaku Analytical Devices (RAD)
RAD was formed as the global handheld and portable spectroscopic analyzer business unit of Rigaku Corporation in 2011. RAD's portfolio of handheld and portable spectroscopic analyzers are used for a variety of applications, empowering our customers to achieve rapid lab-quality results any time, any place.
For further information please contact:
Jen Lynch
Marketing Director
Rigaku Analytical Devices
Wilmington, MA USA
Tel: +1 781-328-1024
Jen.Lynch(at)rigaku(dot)com
###