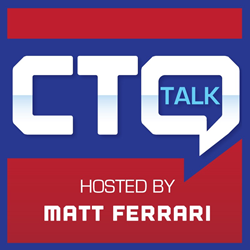 We have the greatest potential in our history to use data to dramatically improve healthcare, from providing collaborative opportunities for multi-specialty care to enabling enhanced data-driven research to speed our path to cures for critically-ill patients - Matt Ferrari
ATLANTA (PRWEB) November 02, 2017
HealthcareNOW Radio has announced the latest show to join its line-up of industry leaders and experts hosting educational content for the healthcare and health IT listening audience. CTO Talk looks at the issues, challenges, and opportunities transforming healthcare technology today from the CTO perspective. CTO Talk is hosted by Matt Ferrari, a skilled technology veteran with more than a decade of success delivering managed hosting and secure cloud-based computing to companies around the world.
As Chief Technology Officer of ClearDATA, Matt is responsible for the strategy and execution of ClearDATA's healthcare technology platform and services. Prior to ClearDATA, Ferrari served as the CTO at HOSTING.COM, focusing on driving automation and cloud product innovation. He is a sought-after keynote speaker, and has presented at events such as AWS Re:invent, EMCWorld, VMWorld, Consumer Electronics Show (CES), IT Expo, InterOp, and others.
The show debuted on October 23, 2017 at 3 pm Eastern.
Some of the topics Ferrari and his guests will tackle include legacy applications, health IT environments, securing ePHI, and audits. His first guest, Chris Bowen, Chief Privacy and Security Officer and Founder of ClearDATA, discussed Security Incidents and how to identify and build an incident management team and response process. You can tune in weekdays to hear CTO talk at HealthcareNOW Radio at 3 pm ET.
"In crafting new shows for our Fall line-up, we wanted a technology expert and authority who could address the challenges related to healthcare cloud security, HIPAA and regulatory compliance," said Roberta Mullin, Station Manager of HealthcareNOW Radio. "We are excited to have Matt's knowledge and expertise on these topics because they are a perfect fit for our station and our listeners."
"Right now, we face the worst data security crisis in history as hackers increasingly focus their efforts on medical identify theft," said Matt Ferrari. "We also have the greatest potential in our history to use data to dramatically improve healthcare, from providing collaborative opportunities for multi-specialty care to enabling enhanced data-driven research to speed our path to cures for critically-ill patients. I'm glad to have this forum to explore topics that will help healthcare organizations, payers and providers protect themselves, their patients and their data so they can focus on providing optimum care. Join us to learn more about the important issues, challenges and opportunities impacting healthcare technology."
You can learn more about CTO Talk by visiting the show's program page. Learn more about ClearDATA and Matt Ferrari at: http://www.ClearDATA.com
Follow HealthcareNOW Radio on Twitter at: @HCNowRadio
Follow ClearDATA on Twitter at: @ClearDATACloud
About HealthcareNOW Radio
HealthcareNOW Radio is Answers Media Network's live Internet radio station, offering interviews, commentary, discussions and speeches from industry leaders in health information technology. The station currently averages over 15,000 listeners a month. Rediscover radio and listen live 24/7 at HealthcareNOWradio.airtime.pro or visit the station's companion website to learn more at HealthcareNOWradio.com. Contact HealthcareNOW Radio at: info(at)healthcarenowradio(dot)com