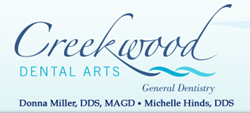 Waco, Texas (PRWEB) October 31, 2017
Respected dentist in Waco, TX, Dr. Donna Miller, and her accomplished colleague, Dr. Michelle Hinds, are proud to announce the seventh anniversary of their practice, Creekwood Dental Arts, at their current state-of-the-art location. In celebration, this skilled team expands their patient offerings, education, opportunities and openings. Patients can now enjoy new and improved advanced treatment options using the latest dental technology for general, family, cosmetic and laser dentistry.
With a passion for cutting-edge care and improving the patient experience, Dr. Miller began practicing in Waco, TX in 1985 after graduating from Baylor College of Dentistry. In 2010 she moved to a new state-of-the-art location and renamed the practice to what it is recognized as today, Creekwood Dental Arts. With over three decades of experience serving her community, she is proud to offer her existing and new patients leading dental care in a modern facility.
Continuing their effort to provide the latest care, Drs. Miller and Hinds now offer the Tekscan T-Scan™, a digital occlusion analysis tool that aids in the diagnosis and treatment of temporomandibular joint disorder (TMD). TMD is a chronic condition that can lead to serious discomfort in the jaw, mouth, head, shoulders and back. For some sufferers precise occlusal adjustments can relieve the pressures associated with TMJ problems. The Tekscan T-Scan enables Drs. Miller and Hinds to better treat patients suffering from TMD.
Drs. Miller and Hinds also offer the Trios® Digital Impression scanner, an intraoral 3D scanning system that assists in the planning of dental implants. The doctors also give patients the option for minimally invasive treatments in laser dentistry with the WaterLase® Epic™ diode laser. Recently Drs. Miller and Hinds hosted a diode laser certification course for dentists and hygienists at their office. Dr. Samuel B. Lowe, world-renowned University of Florida College of Dentistry professor and associate faculty member at the Pankey Institute, instructed this course.
In unison with her practice anniversary, Dr. Miller concludes her year as the Texas Academy of General Dentistry (TAGD) 2016 Texas Dentist of the Year™. She was honored to present the trophy to the 2017 recipient at the recent TAGD Gala.
Those interested in finding a new dentist in Waco, TX or scheduling an appointment at Creekwood Dental Arts to discuss TMD treatment, laser dentistry solutions or other dental needs can contact Drs. Miller and Hinds at 254-870-9026.
About the Doctors
Creekwood Dental Arts is a general dental practice offering personalized dental care to patients in Waco, TX. Drs. Donna G. Miller and Michelle Hinds provide an array of services with state of the art technology. Dr. Miller was honored to receive The Mastership Award from the Academy of General Dentistry, the highest and most respected award in general dentistry. To learn more about Drs. Miller and Hinds or the services they offer, please visit their website at CreekwoodDentalArts.com or call 254-870-9026 to schedule an appointment.