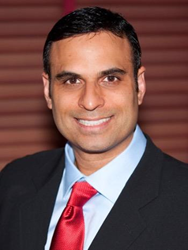 ELMHURST, Ill. (PRWEB) October 31, 2017
Highly regarded periodontist, Dr. Amarik Singh, opens his practice to welcome new patients exhibiting signs and symptoms of gum disease including those with bleeding gums in Elmhurst, IL. As a noted and credentialed leader in innovative periodontal treatments, Dr. Singh offers a variety of modern techniques, including minimally invasive laser gum therapy. His goal is to encourage those showing signs of gum disease to contact his office for an appointment and treat this disease before it progresses.
Gum disease is a progressive condition that the Centers for Disease Control notes affects more than 64 million Americans. This disease of the gingiva, or soft tissues of the mouth, begins as gingivitis and progressively moves to more advanced stages. Without intervention, patients who do not take note of warning signs are at risk of not only losing their natural teeth, but of developing systemic problems linked to gum disease like stroke, heart disease, diabetes, and certain cancers.
Gum disease offers several key indicators at the gingivitis level. These indicators include regularly bleeding gums not simply when brushing or flossing, bad breath that does not go away with proper oral hygiene, and swollen or sensitive gums. If left uncared for, the symptoms expand to gum recession, tooth movement, bone destruction, tooth decay, and edentulism (complete tooth loss in the mouth).
Laser gum therapy allows Dr. Singh to immediately address the build-up of bacteria, as well as any soft tissue damage the condition has caused. Using comfortable, precise laser-based equipment, he can eradicate the existing bacteria. At the same time, lasers enable Dr. Singh to precisely remove diseased gum tissue, promoting the restoration of healthier gums.
Those who are experiencing swollen or bleeding gums in Elmhurst, IL, and the rest of the Chicago area can call 630-424-9404 to set up a custom gum disease examination and consultation with Dr. Singh.
About the Doctor
Periodontal Implant Associates is a periodontal practice offering personalized dental care for patients in Oak Brook, IL and the Chicago area. After graduating from Northwestern University Dental School, Dr. Amarik Singh went on to obtain his Specialty Certificate in Periodontics and earn his Master's from Northwestern University. Dr. Singh is deeply committed to continuing education and prides himself on remaining on the cutting-edge of the newest techniques and technology in dentistry. Dr. Singh has placed over 15,000 dental implants using minimally invasive techniques and is part of an elite group of dental professionals at the forefront of the Chao Pinhole® Surgical Technique (PST™), a revolutionary new approach to repairing gum recession. To learn more about the periodontal services available at Periodontal Implant Associates, please visit http://www.pidentists.com or call 630-424-9404.