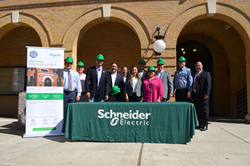 We believe that everyone in Webb County should have an opportunity to realize their own energy savings.
Laredo, Texas (PRWEB) November 01, 2017
Energy and sustainability expert Schneider Electric today announced the start of construction on an innovative energy efficiency project with Webb County, Texas. The project will improve the County's aging facilities and deliver significant energy and operational savings. The project is designed to leverage savings from Webb County's energy budget to fund much-needed infrastructure upgrades and improve quality of operations.
"We are making improvements to our aging facilities with a progressive approach versus having to seek tax funds to address these failing systems. With savings guaranteed in excess of $10 million over the life of the project, our community will benefit from state-of-the-art improvements without a strain on our operational budget," said Tano E. Tijerina, County Judge, Webb County. "Schneider Electric's strong track record with energy efficiency projects makes them an ideal partner to support our vision of improving the quality of life in our County."
For years, Webb County faced a growing list of deferred maintenance projects that drove high operational costs. By partnering with Schneider Electric, the County will be able to modernize several of its facilities and reduce its energy consumption by 35 percent. Schneider Electric worked closely with the County to develop a solution that will offer many long-term benefits such as improved facility efficiency, occupant comfort and financial management.
The focus of the program is rebuilding and expanding the County's downtown central chiller plant and upgrading building automation systems, both of which are well beyond useful life. As part of the new central chiller plant, the County will be expanding the central chiller plant connections to include additional facilities, providing a simpler, more efficient solution. The central chiller plant is set up to support future expansion needs as part of a strategic plan to ensure future needs are proactively managed in the most cost-efficient manner. In addition to providing critically needed equipment and systems to replace failing infrastructure, the program will deliver significant energy savings.
"Webb County is addressing failing infrastructure in a strategic manner, using savings generated to fund these critical needs," said Kent Kirchstein, Sales Director, Energy and Sustainability Services, Schneider Electric. "This approach is in full alignment with the Webb County Commissioner Court's core values of being good financial stewards of taxpayer funds and providing improvements to the quality of life for Webb County families."
The project will have a sizable impact on both the local economy and environment. Once completed, the project will provide energy efficiency savings equivalent to removing 4,497 tons of carbon dioxide from the atmosphere, or removing 874 cars from the road or planting 4,805 acres of new trees.
Webb County officials are encouraging residents to participate in the County's energy efficiency movement by downloading the online Community Sustainability Guide at http://seESS.co/aqmh. The guide provides tips on how to reduce energy use and waste at home, work and on the road.
"We believe that everyone in Webb County should have an opportunity to realize their own energy savings," said Judge Tijerina. "If everyone takes small steps, we can all help improve our community."
Construction is underway and is scheduled to be complete by the end of 2018.
Over the past 25 years, Schneider Electric has successfully implemented more than 660 ESPC projects across the nation, saving its clients nearly $1.7 billion. This project delivery method helps publicly funded entities make capital improvements over longer payback periods and offers many long-term benefits such as improved facility efficiency, occupant comfort, financial management and environmental protection.
For more information on how Schneider Electric helps cities and counties tackle their biggest energy efficiency challenges, please visit http://www.enable.schneider-electric.com or contact your local Schneider Electric representative.
-XXX-
About Schneider Electric
Schneider Electric is leading the Digital Transformation of Energy Management and Automation in Homes, Buildings, Data Centers, Infrastructure and Industries. With global presence in over 100 countries, Schneider is the undisputable leader in Power Management – Medium Voltage, Low Voltage and Secure Power, and in Automation Systems. We provide integrated efficiency solutions, combining energy, automation and software. In our global Ecosystem, we collaborate with the largest Partner, Integrator and Developer Community on our Open Platform to deliver real-time control and operational efficiency. We believe that great people and partners make Schneider a great company and that our commitment to Innovation, Diversity and Sustainability ensures that Life Is On everywhere, for everyone and at every moment.
http://www.schneider-electric.us
Hashtags: #SchneiderElectric #Texas #WebbCounty #EnergyEfficiency #ESPC #LifeIsOn