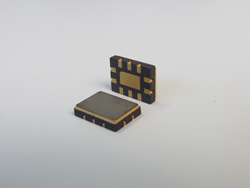 BOSTON (PRWEB) November 01, 2017
FastCAP Systems has launched its latest product – a board mountable chip ultracapacitor. This new product offering is the first low ESR, thin-profile, reflowable ultracapacitor on the market and is now available for purchase in FastCAP's online store.
This chip ultracap has the highest energy density of any board-mountable ultracapacitor. The sealed ceramic package is pick and place compatible, RoHS compliant and Pb-free reflow compliant.
The supercapacitor provides maintenance free storage in a small form factor, perfect for thin devices that require reliability and long lifetime at high temperatures (up to +85°C). This new technology is well suited for applications such as power loss protection for solid state drives, power buffering for lithium-ion batteries, and auxiliary power supplies for peak and pulsed power, wireless sensors, and energy harvesting.
FastCAP is a known innovator in harsh environment ultracapacitors, and FastCAP's products have provided trusted energy storage solutions for the energy exploration and aerospace industries. "As a practical reflowable ultracapacitor, the FastCAP chip ultracapacitor gives ultracapacitors access to volume electronics manufacturing they never had before. Initial applications are solid state drives, but anything that requires volume manufacturing for applications in pulse power buffering is a potential market for this product," said John Cooley, President and Chief Operating Officer.
Test kits will be available soon at store.fastcapsystems.com.
About FastCAP Systems:
FastCAP is an innovation driven company with a straightforward vision – to make a big impact in energy. In 2010, after six years of collaborative research at MIT by FastCAP's co-founders, FastCAP began work under a multi-million dollar grant from the DOE ARPA-E to develop its novel ultracapacitor technology for electrified drivetrain vehicles. FastCAP was honored to receive another grant in 2011 from the DOE Geothermal Technologies Program to develop a cutting edge power system for geothermal exploration. By the conclusion of its ARPA-E program in 2014, FastCAP had achieved five validated world performance records related to the power and energy density of its cells. FastCAP has gone on to achieve additional validated world records related to its high temperature ultracapacitor technology, including the highest operating temperature. These breakthrough performance characteristics have laid the foundation for FastCAP's unique product solutions in a wide variety of applications, from vehicles to energy and space exploration. For more information, visit http://www.fastcapsystems.com.