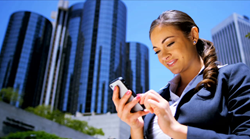 (PRWEB) October 31, 2017
Front Row Solutions, the creator of a class-leading CRM platform that enables organizations to track and improve mobile worker performance, and which recently launched an innovative mobile app that significantly improves how pharmaceutical companies access essential clinical laboratory data, has published a new article that looks at 10 critical lessons learned after a decade of mobile data collection.
"According to IDC, the mobile workforce in the US is projected to reach 105.4 million by 2020, at which time 70.3 percent of workers will work from a mobile location," commented Etien D'Hollander, President of Front Row Solutions. "Our new article cuts through the clutter and confusion, and pinpoints the core principles that companies must embrace in their mobile worker reporting strategy."
Here is a sneak preview of some of the lessons learned by Mr. D'Hollander and his team of data scientists, business analysts and technology developers:

It is neither practical nor realistic to expect mobile workers to manually report on every customer interaction.
Just because an app or platform is mobile does not mean that it is also usable — they are distinctly separate facets.
A mobile data collection system that claims to be paperless must absolutely deliver on that promise — i.e. no paper whatsoever.
Because mobile workers overwhelmingly prefer using their smartphones, a mobile data collection system must be smartphone-based, and not tablet-based or desktop-based.
Data submitted by mobile workers must integrate seamlessly with systems that are currently in the ecosystem, such as CRM, ERP, financial systems, etc.
The complete list of all 10 lessons learned is available at: http://www.frontrowsolutions.com/data-collection/front-row-solutions-learnt-10-years-mobile-data-collection.
Added Mr. D'Hollander: "Our platform captures all of the lessons learned highlighted in our new article, and demonstrates that mobile workers will embrace a solution that closes the gap and aligns with their day-to-day needs. We help companies put their mobile workforce in position to succeed, which is a win for everyone: workers, management, leadership and customers alike."
For more information or to set up a free trial call Front Row at 1-800-986-0983, or visit the Front Row web site at. http://www.frontrowsolutions.com
About Front Row Solutions
Front Row Solutions (FRS) a North American company, was founded in 2008 to improve the Customer Relationship Management (CRM) process with a focus on the mobile worker and mobile data collection. The prime directives around the creation of FRS was ease and speed of use, 100% mobility, improved mobile worker productivity and increased information flow from the field. FRS is a customizable app based system which can be loaded on any smart phone or tablet and allows a mobile worker to submit a report or form immediately after a customer interaction in 60 seconds or less. FRS' unique real-time paperless reporting capability (with optional geo location tracking) gives management better reports and insight into all mobile worker and client activity. FRS can be used as a standalone system or it can be integrated into current legacy CRM or ERP systems, effectively becoming the front end of some not so user-friendly systems.