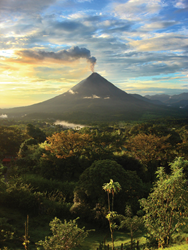 "In the past four weeks, we have seen a strong increase in vacation bookings during the American winter. Our clients have shared with us that they are visiting Costa Rica because it is a safe and fun alternative to the other exotic areas that were affected by recent natural disasters."
JACO BEACH, Costa Rica (PRWEB) November 02, 2017
In the wake of the natural disasters in the Caribbean and Mexico this year, the Costa Rican tourism industry is bracing for a surge in travelers from North America in 2018. With the Costa Rica Tourism Board (ICT in Spanish) reporting over 2 million visitors per year, the small Central American country has always been a top destination for couples, families, and groups. However, the damage to tourism related infrastructure and issues related to security in the Caribbean and Mexico have led to more travelers this year choosing to book their upcoming vacations in Costa Rica.
Gordon Nichols, CEO of Adventure Tours Costa Rica, a premier travel agency located on the Pacific Coast in Jaco, Costa Rica, explained, "In the past four weeks, we have seen a strong increase in vacation bookings during the American winter. Our clients have shared with us that they are visiting Costa Rica because it is a safe and fun alternative to the other exotic areas that were affected by recent natural disasters."
Costa Rica is a magnet for winter travelers looking to enjoy its warm weather and natural beauty. The country's blend of rainforests, beaches, and exotic animal encounters allows for something new to be experienced each day. With 75% of its visitors coming into the country to vacation, Costa Rica has a thriving tourism economy. The rush of international travelers to Costa Rica due to natural disasters in other areas of the world, has already caused a shortage of availability in lodging and adventure activities during its peak season months of mid-November to April.
Nichols shared, "If the spike in interest in travel to Costa Rica continues, we are slated to be booked solid in late 2017 and early 2018. If you are looking to travel to Costa Rica this winter, my advice is to book early."
For more information on available vacation packages, visit http://www.AdventureToursCostaRica.com or call 1-800-761-7250.
About Adventure Tours Costa Rica
Adventure Tours Costa Rica is an American-owned and operated, multilingual travel agency and adventure tour service. It is a leader in customer experience and one of the longest-running tour operators in the Jaco Beach and Los Suenos areas. Since 2001, Adventure Tours Costa Rica has saved its clients time and money on their Costa Rica tours and vacations specializing in organized and safe travel packages for individuals, families, and professional groups.