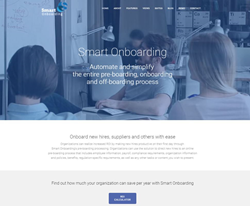 We are very excited about our new Smart Onboarding site, as it will allow us to to build a larger community around the SmartERP brand—Dave Reik, Director of Marketing, SmartERP
PLEASANTON, Calif. (PRWEB) October 31, 2017
Smart ERP Solutions, Inc. (SmartERP), a leading provider of enterprise resource planning (ERP) solutions and services, announced the launch of their newly revamped website, smartonboarding.com. The completely redesigned, mobile-enabled site allows visitors an easier way to learn about SmartERP's innovative onboarding solution through streamlined navigation and enables them to easily browse information based on their choices.
Some of the new features include an online ROI calculator that allows organizations to estimate the savings realized by adopting an automated new hire onboarding solution. There is also a separate ROI calculator specifically for staffing industry organizations, with similar features. The new site highlights customer testimonial videos and a blog section which has content for pre-boarding, onboarding, off-boarding, forms/documents and best practices. Visitors will find views of various screens from the solution, as well as the new Suites section which has information for the employee, sales, healthcare, sales, student, supplier, public sector and staffing suites. Additionally, viewers can sign up for a SmartERP hosted demonstration or a working solution to try on their own.
"We are very excited about our new Smart Onboarding site, as it will allow us to build a larger community around the SmartERP brand," said Dave Reik, Director of Marketing. "We will constantly be adding new vertical solutions to our onboarding suites, rich content such as Smart Briefs and White Papers, as well as customer case study videos, that will tell their own Smart Onboarding success story."
About Smart Onboarding
Smart Onboarding is a robust new hire onboarding solution that supports the talent you are hiring, regardless of whether they are contractors, temporary workers, or internal employees. Smart Onboarding supports industry best practices throughout the talent's life cycle, including pre-boarding, onboarding and off-boarding. Smart Onboarding has an intuitive user interface that provides candidates, managers, and administrators an easy-to-navigate and consistent user experience. From the moment the new hire is invited to the onboarding process through the completion of the hire process, Smart Onboarding automates the tasks required based on the candidate's hiring profile. The process is automated not only for the candidates, but also the managers, compliance team members, and any other administrators. Smart Onboarding also allows organizations to uniquely brand their organization and different lines of businesses—bring in colors, logos videos, and other content that will make the solution their own and create a personalized and unified onboarding experience for all new hires.
About Smart ERP Solutions
Smart ERP Solutions®, Inc. is a unique organization in the Enterprise Business Applications space providing innovative, cost-effective, and configurable on premise and cloud solutions and services that efficiently extend the capabilities of ERP systems to meet specific business process needs. Smart ERP Solutions enables clients to seamlessly integrate their people, processes, applications, and data across an enterprise, enabling the organization to streamline its operations and support business growth.