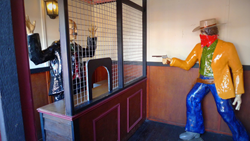 Dangers can come from unexpected sources, and it takes an especially astute observer to identify all possible threats.
DENVER (PRWEB) November 07, 2017
An October 23 article on 9 News reports on a series of bank robberies in the Front Range cities of Lafayette, Louisville, and Westminster. Since May, the robber – dubbed the "Sneaky Bicycle Bandit" -- has managed to rob three banks without the benefit of the two most traditional tools of the bank robber's trade: a weapon and a getaway car. The 9 News article does not explain how the alleged perpetrator, a tall, possibly balding and middle-aged male, persuaded bank tellers to part with their employers' money, but it does add that his mode of transportation appears to have been a mountain bike. Denver-based firm Spear Security Inc. says that this case is a good example of why security personnel should be as well-trained and experienced as possible. The firm notes that dangers can come from unexpected sources, and it takes an especially astute observer to identify all possible threats.
Putting together a security plan for a business, especially one that is open to the public, is a task that should always be performed by the most experienced professionals available, says Spear Security Inc. – and a big part of the job of an expert security leadership team is training and selecting the right personnel. The firm adds that security guards come in all ages, shapes, and sizes. Moreover, their most powerful weapon by far is not on their holster, but between their ears. Whether the property is a big box retailer, a grocery store, or a bank, it's crucial to be alert to anything and everything that might transpire. Some threats might come from loud, drunk and disorderly customers who have worn out their welcome. In these instances, says the firm, de-escalation is usually the best approach. However, as in the case of the bike-riding bank robber, wrongdoers may appear to be completely orderly, law-abiding individuals. In these cases, it's up to the know-how of security personnel to identify the threat early so that proper steps can be taken to ensure that property is protected and the safety of occupants is preserved, says the security firm.
Spear Security Inc. concludes by noting that it prides itself on providing the highest level of protection but with as modest a footprint as possible. This is for two reasons, says the firm: first, most customers and workers prefer security that is friendly, professional, and low-key; second, it's not just bank robbers who do better when they fly slightly under the radar.
Interested readers who want to learn more about Spear Security Inc. can reach the firm at 303-298-8373. The firm can also be found online at http://www.SpearSecurityDenver.com.