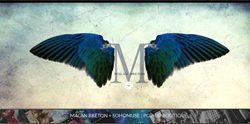 New York City, NY (PRWEB) October 31, 2017
Tokenly, a blockchain and tokenization solutions company, is partnering with world-renowned fashion designer Malan Breton and the social networking site for creatives, SohoMuse. The partnership will provide Malan Breton customers with limited edition digital tokens called "MALAN" that will be the keys to future Malan Breton exclusive experiences exclusively available via SohoMuse. While most may not instantly think of fashion when thinking of blockchain, Tokenly is empowering a whole new customer experience with this unique token technology mashup.
Via the Malan Breton online store at SohoMuse, all Malan Breton orders will include a Malan Breton limited edition digital blockchain collectible token, as well as an original design sketch. Like Malan Breton's designs, these tokens are the first of their kind. They're also rare, as a lifetime maximum of only 1,000 tokens are available for standalone purchase.
"We are thrilled to provide a portal where creatives could offer next level services and attributes to their customers," noted SohoMuse Co-Founder, Consuelo Vanderbilt Costin. "SohoMuse was developed to enable and empower creative professionals to collaborate and expand their opportunities and are excited to see such partnerships allowing us to execute just that."
"Coco Chanel once said, 'In order to be irreplaceable one must always be different,'" says Adam Levine, CEO of Tokenly. "We're thrilled to empower the launch of "MALAN" as the first ever mainstream token collectible in the fashion world. Working closely with world-class designer Malan Breton and the amazing team at SohoMuse, MALAN will start off useful for discounts, early access and special deals, with the potential to grow into much more."
The MALAN token is built on the bitcoin blockchain using the Counterparty protocol. It uses Tokenly's Tokenpass technology, blockchain and will provide token holders with exclusive experiences including priority purchasing for Malan Breton fashion week events and tickets all around the world, exclusive updates from Malan Breton, digital booklet access to "The Art of Dressing," and exclusive access to a chat with Malan Breton.
The iconic design house Malan Breton continues to be on the bleeding edge of not only fashion, but also technology. As company namesake designer Malan Breton himself said of the launch of the MALAN digital token with Tokenly:
"As a design house we are constantly experimenting with new and exciting technology to sell and market our brand. We are most excited about this partnership and its broad reach on a global level."
About Tokenly
Tokenly is a blockchain solutions company focusing on the development of token applications that empower token access, ownership and buying power, without the need for creators to write any code. It uses an internally-developed service called Tokenpass, which is a universal username and blockchain agnostic management hub. Tokenpass empowers developers and users with token access, lending, rentals and more.
About SohoMuse
SohoMuse (http://www.sohomuse.com) is the first-of-its-kind Vertical Social Network for the Creative Industry.Centered on an exclusive membership-by-invitation-only platform, creative professionals can promote their talents and projects, network and collaborate with other Creatives and source talent across the globe - all within a secure and trusted ecosystem. Both a community and a portfolio platform, SohoMuse brings together the best talent from all creative fields in one place and provides the tools and features Creatives need to work more efficiently, network more effectively and increase exposure and opportunities exponentially. Members are part of an exclusive global community where those seeking talent can find the best Creative Professionals anywhere.
For more information on Tokenly (http://www.tokenly.com) or to schedule an interview with Tokenly CEO Adam Levine, please email brian(at)contentfac(dot)com. For more information on SohoMuse and Malan Breton, visit their store at https://malanbreton.sohomuse.com.