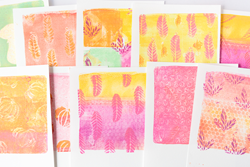 SAN DIEGO (PRWEB) October 31, 2017
Two women from completely different career paths teamed up to transform an exciting idea into a reality. Meet the two minds behind Gelli Arts® – Joan Bess and Lou Ann Gleason. With Joan's background as the founder/owner of the rubber stamp company Emerald City Stamps and a passion for gelatin printing, all she needed was a mastermind behind the products. That's where Lou Ann entered the picture. Seeing Joan print on a gelatin plate, she was determined to find a non-perishable option. With lots of research and a little luck, Gleason was able to find the perfect printing plate. Brainstorming all the pieces into place, these skilled ladies have boosted their business with an innovative product.
With gel printing plates that look and feel just like gelatin, but are durable, reusable, and easily cleaned up, all that is needed is a paper towel or baby wipe. Always ready for simple and fun printing, achieve instant gratification – and consistently flawless designs. All products are non-toxic and proudly made in the USA, with the most and highest consumer ratings in the business.
Get your Gelli® on with these different, creative products:
Mini Printing Tools (Set of 3) $12.99: Stay creative with this set of 3 flexible combs. Each comb has 3 unique edge designs – and they are durable and reusable.
NEW Printing Kits $24.99: With everything included to get printing right away, these creative kits help design cards, print on quilt squares and even fun fabrics to make patches for jeans, jean jackets, and more.
Premium Acrylic Paint Sets ($15.99): Available in Classic and Bright colors, this perfect paint was formulated for printing on Gelli Arts® printing plates as it stays open longer – more time to create designs. Selected by professional printmakers and can be combined for endless options. Comes in fun, vibrant colors including Kiwi, Tiger Lily, Lemon Zest, Mixed Berries and more.
For even more fun, try hand drawn mark-making with soft tipped tools, bubble wrap, plastic grids, foam, stamps, stencils, leaves, and even string (whatever your heart desires) to make interesting imagery even more interesting on your plates. Whether it's a classroom craft, just for fun, or even the perfect holiday gift, channel your inner artist with Gelli Arts®.
For more information please visit https://www.gelliarts.com.