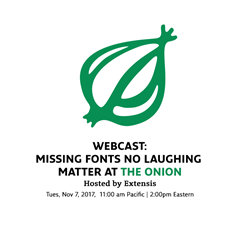 PORTLAND, Ore. (PRWEB) November 01, 2017
Extensis®, a leader in font management and digital asset management solutions, will host a live Webcast with its customer The Onion discussing how the satirical news source manages the fonts used in its work.
Rick Livingston, Director of Post Production at The Onion, will join Extensis and share:

The role fonts play in The Onion's content
What led The Onion to look for a font management solution
How font challenges have been solved by implementing Universal Type Server
Overall best practices for managing fonts
Following the presentation, Livingston and Jim Kidwell of Extensis will be available for questions.
Webcast Details
Title: Missing Fonts Are No Laughing Matter at The Onion
Date: Tuesday, November 7, 2017
Time: 11:00a.m. Pacific | 2:00p.m. Eastern
Registration: Click here
A recording of the webcast will be sent to those who register, but cannot attend.
Extensis Font Management Solutions
Extensis empowers designers, developers and enterprises across the globe with the font management tools they need to control corporate typographic branding. Universal Type Server is the world's leading font server, offering the most effective solution for helping enterprises manage, organize, and distribute their font collections and ensure font compliance.
About Extensis
For more than 20 years, Extensis® has helped individuals and organizations of every size drive down operational costs and accelerate profitability with font and digital asset management solutions that maximize the value of digital content, streamline workflows, ensure compliance, and accelerate collaboration. Extensis' top-rated server and desktop products include: Portfolio® for digital asset management, Universal Type Server® for organizations that require font access, synchronization and compliance, Suitcase TeamSync™ for small workgroups to share fonts, and Suitcase Fusion® for individuals to manage font collections. Founded in 1993, Extensis is headquartered in Portland, Oregon, and Northampton, England. For additional information, visit http://www.extensis.com
© 2017 Celartem, Inc. d.b.a. Extensis All rights reserved. Extensis and the Extensis logo mark, Suitcase Fusion, Suitcase TeamSync, Extensis Portfolio, Portfolio NetPublish, Portfolio Flow and Universal Type Server are trademarks or registered trademarks of Extensis in the United States of America, Canada, the European Union and/or other countries. This list of trademarks is not exhaustive. Other trademarks, registered trademarks, product names, company names, brands and service names mentioned herein are property of Extensis or other respective owners.